12 Awesome Spots in Philadelphia to Meet Singles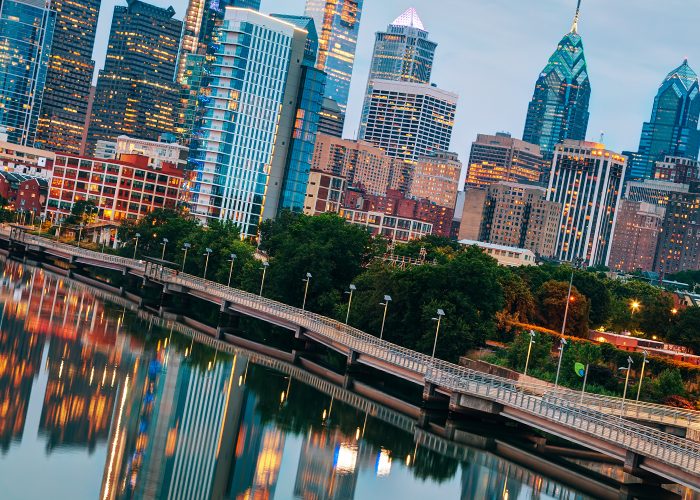 If you live in Philadelphia (or not too far from the city), you may have wondered where do people go to meet their special someone. Sure, you could always rely on your friends or family to set you up, but how often does that ever work out in your favor? Probably pretty rarely.
Look no further because we have 12 places to meet fun-loving singles in Philadelphia just like yourself. The places on our list range from dance halls, bowling alleys, wineries, cafes, and so much more.
To find out if your favorite spot is on the list, keep reading and see!
Chaddsford Winery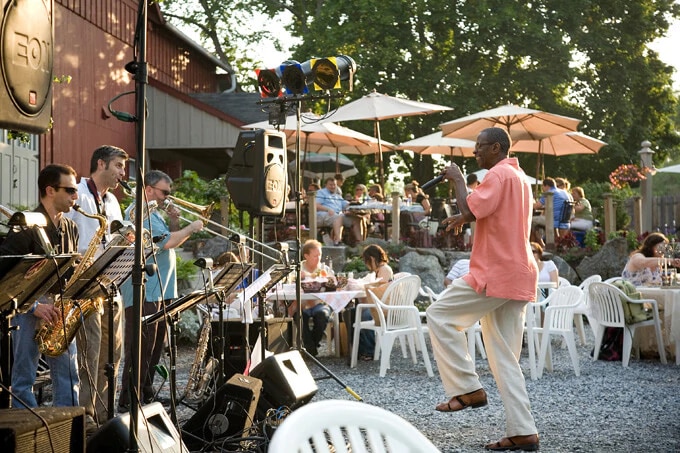 Chaddsford Winery is the perfect place for a bit of romance! Located smack dab in the heart of the Brandywine Valley in southeastern Pennsylvania, this winery is one of the oldest and most acclaimed wineries in the state.
The winery offers tasting opportunities where you can taste some of the delicious wines made right there at the winery. Traditional tastings are priced at $10, which includes seven one-ounce wine samples that reflect their entire portfolio. Reserve tastings are offered most weekends for $20. These tasting sessions include their traditional tasting, but also include three one-ounce samples of their small-batch wines that are paired with artisanal snacks.
If you are a wine lover, this is the perfect place to meet your special someone. Other than the wine tastings, the winery also holds events each month where you can mingle with other wine lovers and maybe see if there is some chemistry there!
Some future events you could attend include The Vintner's Table – Wine Pairing Dinner, Adult Easter Egg Hunt, and Baconfest!
Visit them at:
https://www.chaddsford.com
632 Baltimore Pike | Chadds Ford, PA 19317 | 610 388 6221
Monday – Wednesday : 10 AM – 5 PM
Thursday : 10 AM – 8 PM
Friday – Saturday : 10 AM – 8 PM
Sunday : 12 PM – 5 PM
Chhaya Café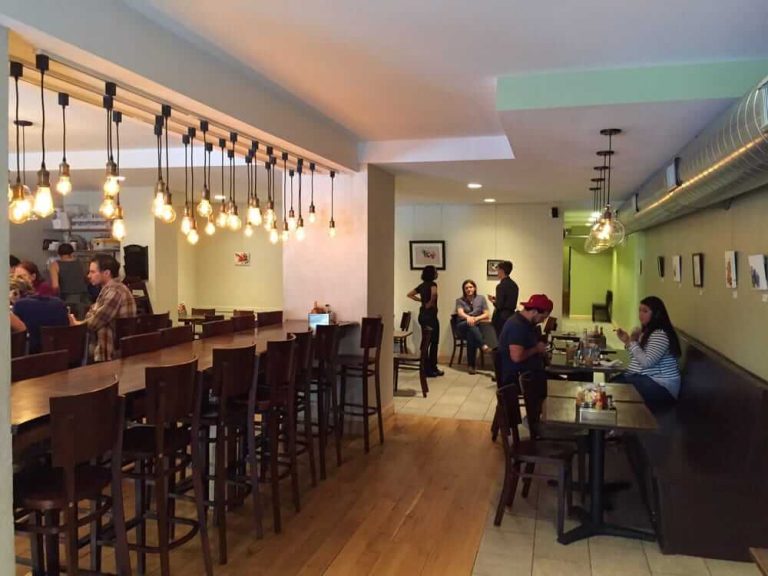 If you consider yourself a people person, then you're going to fall in love with the atmosphere at Chhaya Café. While there are regulars that frequent the café, the atmosphere here is welcoming and you can truly feel the love, from the people sitting at the tables to the people behind the counter, to the food that is created in the kitchen. When Chef Varnana "V" Beuria opened the café in 2010, she had only one philosophy: create delicious but uncomplicated food that would comfort those who ate it.
Of course, there is coffee… Whether you're just there to people watch, you're meeting a first date, or if you have some work to do, you can find that perfect little spot in the café to hunker down with a delicious cup of coffee from one of the many brew styles they offer.
For those who enjoys the vibe that you get when you go to a coffee shop, then you'll love the events that are held at the café. You could meet someone while you're enjoying the Official Music Showcase, you could debate with someone over which is better—wine or beer at the Wine & Beer Study with Wine Tastings, or you could always show your moves at Tango Tuesday, and event that happens every Tuesday!
Visit them at:
https://chhayacafe.com/
1819 e. Passyunk Avenue | Philadelphia, PA 19148 | 215.465.1000
Monday – Friday: 7 am – 5 pm —kitchen open till 3pm
Saturday – Sunday: 8 am – 5 pm —kitchen open till 4 pm
Cuba Libre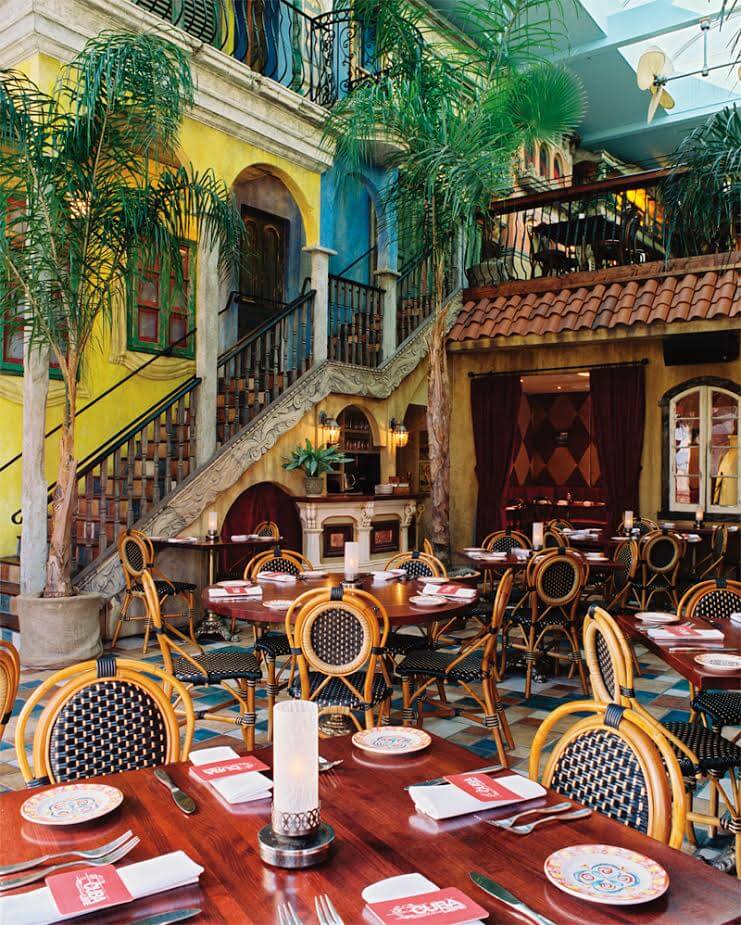 While Philadelphia isn't a tropical place, you can find a little bit of paradise right here on 2nd Street! Cuba Libre is dedicated to explore the Cuban Heritage, the art, music, flavors and tradition! When you're in the mood for a bit of excitement and spice, you are definitely going to want to check out the upbeat Latin music, at Cuba Libre. Pair the music with the open-air setting, the tropical ambiance, and the vintage decor, and you're going to feel like you're anywhere but Pennyslvania!
Cuba Libre first opened doors in Old City, Philadelphia back in 2000, and it has been a staple for Philadelphians since. The cuisine here is very different than what you may find around the city, thanks to Chef-Partner Guillermo Pernot, a two-time James Beard Award Winner. Cuba Libre isn't just known for their delicious food or Happy Hour with $5 cocktails or $4 Sangrias at their Rum Bar, but they are also the place to go for a taste of Latin Nightlife. The people who attend any of the events at the venue are chic and love to dance. Some events you could attend to meet a potential Latin love interest include Latin Fridays and Bailamos Saturdays.
Visit them at:
http://www.cubalibrerestaurant.com/en/philadelphia/
10 S. 2ND ST. | Philadelphia, PA 19148 | 215.627.0666
Lunch: Monday – Friday 11:30AM – 3PM
Brunch: Saturday – Sunday – 10:30AM – 2:30PM
Dinner: Sunday – Wednesday – 4PM – 10PM
Thursday – Saturday – 4PM – 11PM
Happy Hour: Monday – Friday – 5PM – 7PM
Dancesport Academy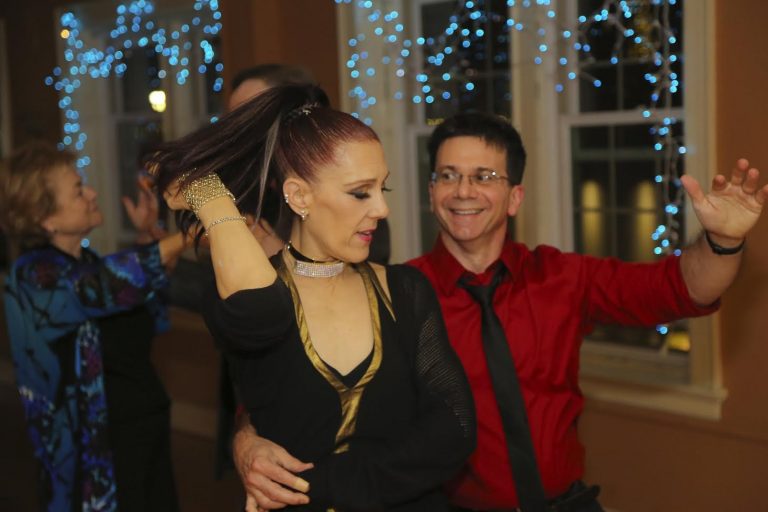 If you're itching to put on your dance shoes and shake a tail feather, then you're going to love taking lessons at the Dancesport Academy! This award winning studio offers folks the highest caliber of competitive and social dancing in the greater Philadelphia region. Students will learn the fundamentals of over a dozen dances while advancing their technique and their style.
The studio is home to one of the most sought-after choreographers and coaches in the country, Scott Lazarov brings his own brand of leadership and vision. The other six dance instructors, Ricky Burmarch, Sergei Trubin, Aideen O'Malley, Teresa Travis, Brona Vrytalova, and Alina Fiorella, all work together to bring a little rhythm to your life and help you learn the moves that will make others envious of your dance skills.
While the dance academy offers private lessons (the first private lesson is free!), you can really learn how to dance in a group setting. With group lessons, you can learn dances like ballroom, Latin, Salsa, Argentine Tango and much more.
By participating in the group lessons, you'll be paired up with others who didn't bring a partner. If you find that you and your partner move beautifully together, who knows, you two may want to check out the wedding preparation later down the road!
Visit them at:
http://www.dancesportpa.com/
1 W Lancaster Ave | Ardmore, PA 19003 | 610.642.2525
Monday – Thursday 1pm – 9pm
Friday 1pm -5pm
Howl At the Moon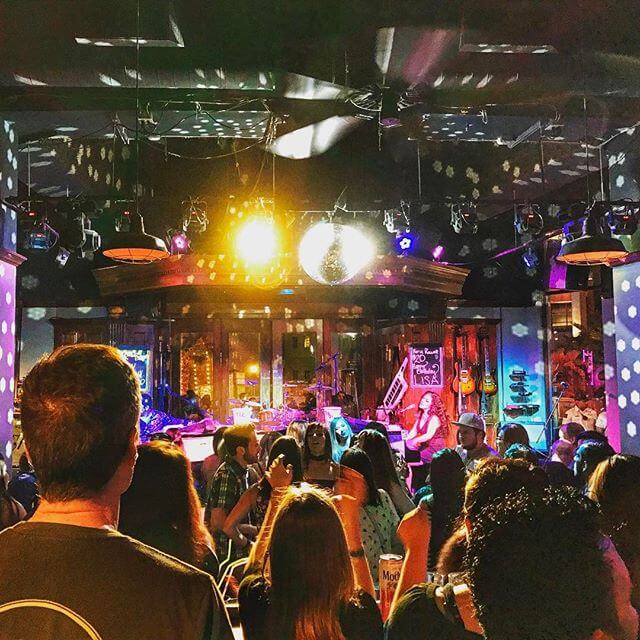 If you're looking for a place that is a little bit of a party and a little bit of a concert that offers delicious food, you're going to want to check out Howl at The Moon. This is the newest addition to the Howl al the Moon family and it is making waves in the Philly nightclub scene. Howl at the Moon is the place to go if you have lots of energy and you want to wind down after a long week. This is the place where you can let your hair down, dance to some great music, and dance to your heart's content.
Howl at the Moon is your go to place when you want to be part of a high energy show that centers around dance hits and those party anthems you absolutely love. When you need to whet your whistle, you can enjoy a variety of their specialty drinks—some even served in a fun bucket! YES! A bucket!
If you're looking for a place to host a party, be it a birthday shindig or a Bachelorette party, you can turn up the fun here! The best part is, if you're single, just cozy up to someone on the dance floor and let the rhythm take control!
Visit them at:
http://www.howlatthemoon.com/philadelphia
258 S 15th Street | Philadelphia, PA 19102 | 215-546-4695
Su: Available for Events!
Mo: Available for events!
Tu: 7:00pm – 2:00am
We: 7:00pm – 2:00am
Th: 6:00pm – 2:00am
Fr: 5:00pm – 2:00am
Sa: 5:00pm – 2:00am
MilkBoy Philadelphia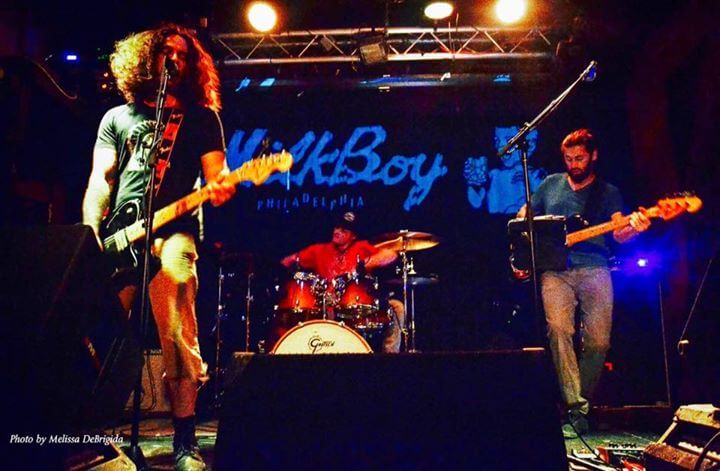 Music has a way of touching the deepest part of your soul that you never realized existed. At MilkBoy Philadelphia, you can immerse yourself with amazing music while dining on tasty food and drinking some great drinks. That's right, this is a restaurant, a bar, café, and a live-music venue right here in the middle of Philadelphia. When you get music-industry insider, Tommy Joyner and Milkboy recording studio's Jamie Lokoff, and introduce them to Bill Hanson, a veteran in the food and beverage industry, this is what you get!
Upstairs, MilkBoy Philly has a music venue that plays host to local talent, but also welcomes nationally recognized talent as well. There's two full bars and an elevated food and beverage programs too! The food here reflects their dedication to producing quality product to the Philly food scene. It doesn't matter when you're hungry, MilkBoy has options for all three meals and something to snack on. If you're feeling thirsty, MilkBoy has the best selection of canned beers in the city, a variety of craft beers, and cocktails that'll satiate your taste for something stronger.
MilkBoy Philly is the place where people go to listen to original artists as well as cover bands. You will need tickets, but with acts like Acid Dad Honduras, Among Criminals, and Cory Branan, it's well worth the affordable ticket prices!
Visit them at:
http://www.milkboyphilly.com
1100 Chestnut Street | Philadelphia, PA | 19107 | 215.925.MILK
7 a.m. – 2 a.m. on Weekdays
11 a.m. – 2 a.m. on Weekends
KITCHEN HOURS
8 a.m. – 12 a.m. Sunday through Wednesday
8 a.m. – 1 a.m. Thursday through Saturday
Morgan's Pier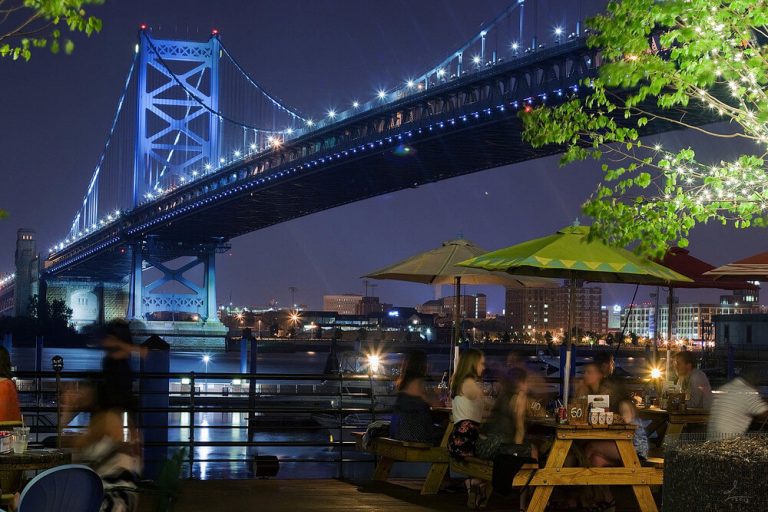 There's no better place in the city to enjoy a beer with a waterfront view than Morgan's Pier! Spring is here with summer quickly approaching and that means it's time to get outside and mingle at Philadelphia's favorite backyard beer garden.
Not only is Morgan's Pier a great place to meet new people, its a great place to "wine and dine" your date. Morgan's Pier's invites a different celebrated chef to take over the kitchen and whip up their own version of the backyard barbecue menu. Your date can choose from an impressive menu of eclectic dishes and seasonal sides, all while overlooking the Delaware River and taking in the spectacular view of the Ben Franklin Bridge. Pair all that with one of their draft wines or cocktails, now how's that for romance?
But if you're looking for more casual activities, they host community wide events, such as Radio 104.5 Concert After Parties, Monthly Beer Fests or Christmas in July. These events are perfect opportunities to hang with locals, enjoy good food, sip on seasonal cocktails and have fun! The also have weekly programming such as Tuesday Game Nights (including bingo, quizzo and baggo), Thursday Band Nights and DJ's all weekend. The Pier is the "it" place to be in the spring and summertime for people of all ages.
Visit them at:
http://www.morganspier.com/
221 N. Columbus Blvd | Philadelphia PA, 19123 | 215.279.7134
Friday: 4PM – CLOSE
Weekends: 11AM – CLOSE
North Bowl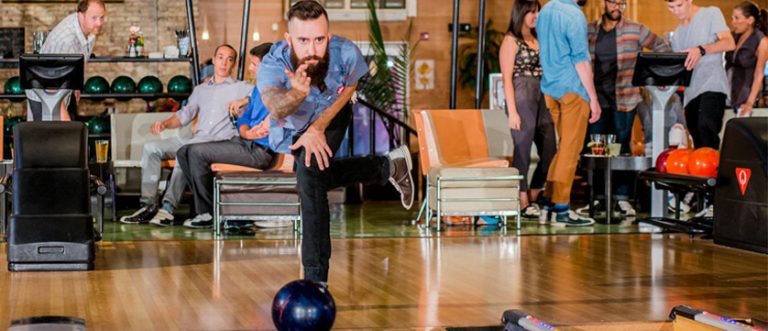 We've talked about wineries, clubs, restaurants and dance studios, but what about a place where you have bring the family? Sometimes it takes a family friendly venue to bring out the carefree spirit we tend to keep tucked away. By letting your hair down and having some fun when you visit North Bowl, you never know just who you'll meet in the lane beside you. Why, you may even find someone at the billiards tables and you'll want to challenge them!
At one time, North Bowl used to be a mechanic's garage, but you'd be hard pressed to find any remnants of oils stains or car lifts in this bowling alley. Ah, but it's so much more than your average bowling alley. Though you get the feel of a 1950s bowling alley your grandparent's may have gone on dates to from the retro benches, that's about as old school as you'll get. The venue features a sculptural bar and glass enclosed lounge that overlooks the lanes below.
There is a café to grab some delicious food, two full sized bars to quench your thirst, bowling lanes on both floors (did we mention this was a bi-level bowling alley?), and there is also an upstairs loft where you can experience a semi-private bowling experience. However, the real place to meet folks is at the 50 seat bar or in the spacious lounge!
Visit them at:
http://www.northbowlphilly.com
909 North 2nd Street | Philadelphia, PA 19123 | 215.238.BOWL
Monday – Friday: 5:00PM – 2:00AM
Saturday & Sunday: 12:00PM – 2:00AM
HAPPY HOUR:
Monday – Friday: 5:00PM – 7:00PM
Penns Woods Winery
There's something about wine that just makes us crave romance. The Penns Woods Winery in Chadds Ford, Pennyslvania proves that great wine can be made in Pennsylvania, but also that with a stroll through the vineyard is the perfect place to fall in love.
The winery once was Smithbridge Winery, but Gino Razzi purchased the vineyard in 2004, where he set out to prove that the state was capable of creating wine that rivals those that you'd find in California's Napa Valley.
The vineyard's tasting room is where the real magic happens, when it comes to matchmaking. Here, you'll be privy to tasting the fine wines the vineyard creates, but you can also take part in the many events hosted here. For example, in April, the vineyard is hosting several Wine and Cupcake pairing events, the Penns Woods 6th Annual Egg Hunt, and they have live music outside every afternoon on the weekends!
Visit them at:
http://www.pennswoodsevents.com/
124 Beaver Valley Road | Chadds Ford, PA 19317 | 610.459.0808
Monday: 1:00 PM- 5:30 PM
Tuesday: 12:00 PM- 5:30 PM
Wednesday: 12:00 PM- 5:30 PM
Thursday: 12:00 PM- 5:30 PM
Friday: 11:00 AM – 6:00 PM
Saturday: 11:00 AM – 6:00 PM
Sunday: 11:00 AM – 5:00 PM
Philadelphia Museum of Art

While art may be subjective, the fact of the matter is it is certainly a conversation starter. At the Philadelphia Museum of Art, you have so many opportunities to meet someone special, whether you share your musings over the same piece of art, you're taking part in any of the adult programs, or you visit the museum after 5PM on Wednesdays where admission is only what you want to pay (but, please do pay something, the staff works very hard to bring you the best experience at the museum!).
When you visit the art museum, your experience is never going to be the same. You could run up the stairs like Rocky, but once you get inside, you'll have the opportunity to see the world through the eyes of artists like Marcel Duchamp, Claud Monet, Edgar Degas, and so many more. You can slip back into another time when you walk through the "period rooms" where you can view architectural ensembles from all over the globe.
If you want to take in some fresh air, you can always tour the museum one-acre Sculpture Garden. Outside, you can view beautiful sculptures like the Giant Three-Way Plug (Cube Tap) by Claes Oldenburg, Flukes by Gordon Gund, or Steps (Philadelphia) and Pyramid (Philadelphia) by Sol LeWitt. It doesn't matter how many times you've visited, there is always something new to see at the museum!
Visit them at:
http://www.philamuseum.org
2600 Benjamin Franklin Parkway | Philadelphia, PA 19130 | 215-763-8100
Tuesday–Sunday: 10:00 a.m.–5:00 p.m.
Wednesday & Friday: Main building open until 8:45 p.m.
Society Hill Dance Academy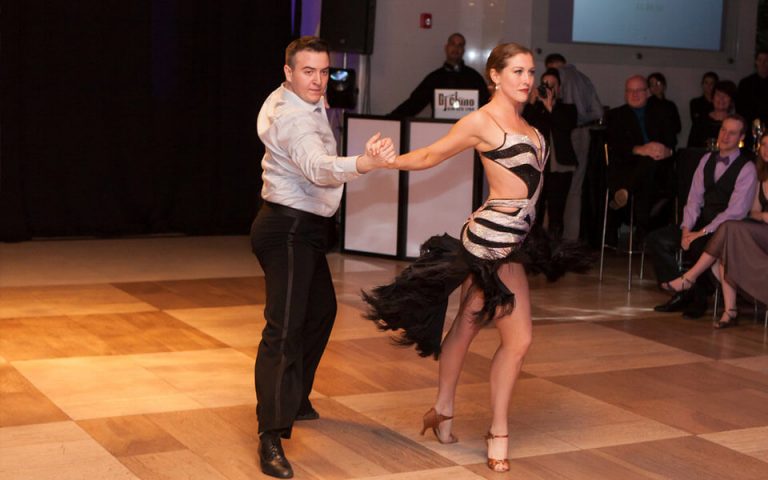 Dancing is an amazing way to get the blood flowing and break out of your comfort zone. If you're looking for a way to get moving and brush up on your dancing skills, you may want to check out Society Hill Dance Academy. Here, you can attend lively group classes where you'll learn Ballroom, Latin, Social, and Competitive dancing techniques and styles.
Society Hill has a 5,500 square foot studio where sun seeps in through every window, smack dab in the heart of some of Philadelphia's most historic and charming neighborhoods. And although this is the venue to go for any big event you may have, it is also a great way to meet some new people and possibly find a connection with someone great.
What really makes Society Hill stand out is that not only is it a dance academy, you can also plan a night out here. All you have to do is bring the people and the cocktails, and the venue will make it a party that you won't forget.
Of course, they don't only play host for your parties, but they also host some pretty awesome events of their own. For example, they host Spring into Swing on Monday Night and Friday Night Party each Friday, which is a great way to socialize and, you guessed it, dance!
Visit them at:
https://societyhilldance.com
409 S 2nd St. | Philadelphia PA 19147 | 215.574.3574
Monday – Friday 1pm-10pm
Saturdays 10-4pm
Tattooed Mom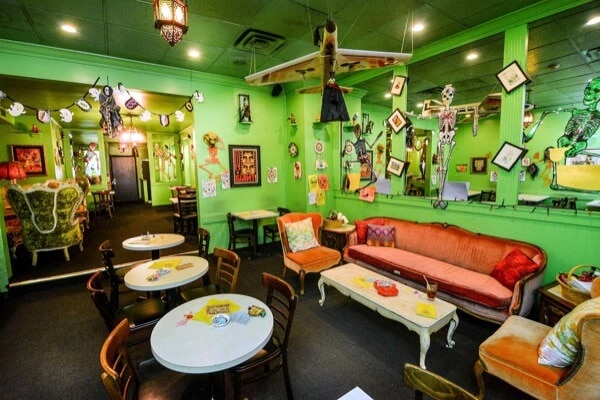 If you're tired of running with the same crowd and want to meet new and exciting people, you've got to check out Tattooed Mom. This place is located in the middle of South Street, so you already know it's going to be a good time here! This is the perfect place to grab a casual lunch with a friend, dinner to start off a date, or just grab a late night snack on your way back from a night of dancing.
With a fun name like Tattooed Mom, you can expect that there will be some awesome events being hosted here. You can check out Dr. Horrible's Sing-Along. If you want to see a performance that will take you on a trip that may leave you speechless and feeling things, you'll want to check out the free show of A Stranger Sound. If you're someone who is tired of the status quo and you want to illicit change, you'll fit right in with the rest of the crowd who will attend Philly For Change. This is your community, so help to make to make it the community you want to live in!
One of the things we love most about Tattooed Mom is that there is always something going on. Here, you can find an eclectic group of people enjoying delicious food, sipping on some unique (but delicious) cocktails, participating in whatever activity is being hosted here. If you want to surround yourself with incredibly interesting people, this is your place to go.
Visit them at:
https://www.tattooedmomphilly.com
530 South Street | Philadelphia, PA 19147 | 215.238.9880
OPEN 7 DAYS: 12 noon – 2 AM
Wrap Up
See, now didn't we tell you that there were a lot of awesome places in and around Philly to meet awesome people? You could dance your heart out, do the tango, sip on some wine, go to the bowling alley, or you could enjoy a great cup of coffee at a small café. Wherever you go, there is always a possibility to meet someone amazing. '
Of course, if you strike out at any of these places, you could always try your luck online by signing up for a membership to!