Practical Dating Tips Every Gay Man Should Know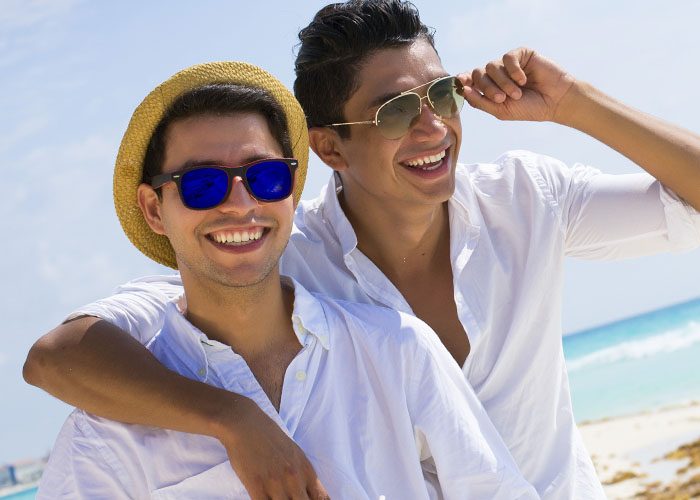 Dating in the gay community can present a few challenges. We've created a list of practical dating tips that will help you navigate the gay dating scene with ease.
1. Turn off your notifications for any dating apps you have on your phone. It doesn't matter that you've found them on there — it's a huge romance killer when that identifiable chime sounds.
2. There is nothing more unappealing than announcing on social media that you are "checking in" at XYZ location for your date. Remember, you are trying to create a romantic little tryst, and everyone on your friend list does not need to know!
3. You shouldn't send a friend request to the person you're going out on a date with before you actually go on a date. If you aren't compatible with one another, you're going to have that awkward decision of whether you should un-friend them or read about them lamenting on and on how miserable their dating life is. Oh, yes that includes you, too.
4. Although gay men like giving people labels, that doesn't mean you can do it to them. It doesn't matter if he obviously fits into any of the many labels in the gay community, only use terms of endearment that are neutral and generic. This includes terms like handsome, sexy, hottie and the like.
5. If you're older than he is and in your 30s, don't be offended should he call you "daddy." It's a compliment, not a reason to end the date prematurely.
6. Unless he has a talent for doing things in bed, a "versatile bottom" only means one thing so you should be prepared to take the lead. If you call yourself a "versatile top" but you have no idea what it means or can't pull it off effectively, then you might want to start working on oral.
7. If he insists on taking phone calls during your date, you shouldn't automatically assume that he's trying to blow you off. Today's world is complicated, and he could be calling work, his babysitter or even his ex to pick up the kids. Calm down and use this time to hit up your sponsor or a friend for a boost in confidence.
8. Back in the day, there was a common sense phrase was used when you were sleeping with someone. You know the saying, where if you sleep with one person, you've slept with everyone they've slept with. So needless to say, always wear protection.
9. If you've met this guy online but have yet to meet in person, be wary of what they are saying. If everything he says is to comment on how attractive you are and how interested in you he is, chances are he may hate you within the first 20 minutes of the meeting. They won't give you an explanation about why he ghosted on you. He may even go so far as to call you a stalker and block you on any and all social media sites.
10. It's nice to have a good idea about current events and be cultured, it isn't necessarily a must-have pre-requisite. If you don't have an answer for the heavy hitting questions like when you want to get married or how many kids you see yourself having, you better think of something quick if you wouldn't want the date to end abruptly.
Dating in the gay community can be a little challenging if you're newly out. That doesn't mean it's impossible. We hope that these 10 tips will help prepare you for the fun and colorful world of gay dating.