The Online Dating Statistics That Surprise You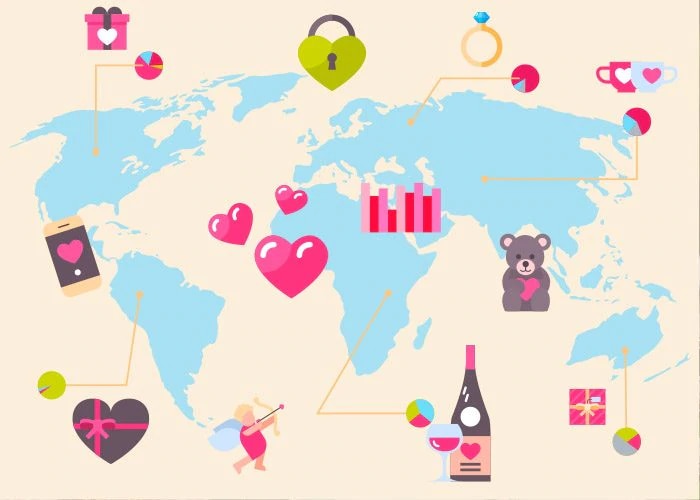 Millions of people date online as a way of finding love, romance, and companionship. Traditional dating is almost a thing of the past because of the way that online dating makes it so easy. You might be wondering "how many dating sites are there?" and the answer to that is many, proving just how important online dating is to people all around the world. In fact, online dating has helped to create millions of marriages and relationships in a way that has never been seen before. Internet dating is convenient, fast and available when singles need it.
Therefore, it is the perfect solution for millions of people and that is proven by the statistics. So, just how impressive are the online dating success statistics?
Almost 1 in 5 newlywed couples met online
In recent years, online dating has become the most popular place for newlyweds to meet. The statistics show that 19% of brides actually met their spouse online and this proves that internet dating is growing because this is a rise when compared to recent years. However, what is impressive is that evidence from studies of online dating indicates that it is now more popular than meeting in School or college and at work. There are no signs that this is going to stop any time soon and so, it is likely that the percentage of married couples who met online is going to rise.
Dating industry revenue has increased significantly
If you have ever wondered whether online dating is worth trying and that you could never meet someone online, it is time that you think again! There is a reason why the dating industry revenue has increased and that is because it provides dating success for millions. While it has been around for some time, in recent years, through smart devices and apps, it has grown exponentially. Singles are seeking fast connections with potential matches and that is why it is used all around the world. The success that has come with online dating is the reason why more people are investing money into becoming a member. It is no longer an industry that generates millions, it is now collectively generating billions.
Online dating moves quickly on to marriage
Singles who decide to turn to online dating do so because they want to date and meet people quickly and conveniently. They do not just come across a dating site accidentally and so, they are there for a purpose. Whether singles are looking for a one-night date or someone they can marry, they are often keen to get things moving quickly. Therefore, dating site statistics suggest that couples are meeting online quickly and end up popping the question faster than they would when traditional dating. The findings suggest that those couples who meet through online dating do get married earlier in their relationship than those who meet offline.
90 million people date online
There are so many questions to ask when it comes to the popularity of online dating. How many couples stand the test of time? What are my chances of meeting that special someone? Does it really work?
There is one prominent question and that is – how many people use online dating? That is a staggering online dating fact that proves just how popular it is and it is a figure that is continuing to grow. As the number grows, it will become more likely that you might find your ideal partner online. As it is now the preferred way to find love, more people are pushing skepticism aside and trying it for themselves with great results.
What is important to people when dating online?
If you are considering online dating then what do you think matters to people? You might automatically say appearance or their personality but in reality, 64% of people say that having a shared interest with someone is important to them. In contrast to this, 49% say that looks are important. However, this highlights just how different online dating is when it comes to the mindset of singles when they begin dating.
It makes communicating so much easier
We are all different and unique and that means that often, traditional dating can prove difficult for some. That feeling of having to speak to someone face-to-face and ask them out on a date can be daunting. There might be worries about dealing with rejection, feeling stupid when asking or worrying about whether you can go through with it. However, online dating removes all of that concern and that is proven by the fact that 50% of those who date online have never asked someone out on a date in person. Online dating acts as a protective barrier and can help someone to feel comfortable when it comes to dealing with his or her emotions as well as the emotions of someone else.
Online marriages are more likely to stand the test of time
This might be one of those but it is true – people who meet online and marry are more likely to see their marriage succeed. Online dating in the past has had a reputation of being transparent and superficial because of the way in which people met. Many believe that you cannot truly get to know someone online but this has been proven wrong. Many online dating sites use a personal compatibility algorithm and they do work extremely well. Research has been carried out that suggests that dating sites help people to form stronger, meaningful relationships. Those relationships that lead to marriage are less likely to break up during the first year. This has been put down to them forming a bond that is unique, being able to talk openly and honestly as well as having more marital satisfaction.
Online dating really is for you!
Online dating is immensely popular. It is an industry that is growing every single year and the stats are proving just why so many people are turning to internet dating. If you are looking to meet someone online then you have a great chance of real success. Whatever relationship you are looking for, you can find it online and you can be sure that you will find your perfect match. There are now millions of people who choose to date online, which increases your chances of success.