Online Dating Makes it Easy for Women Who Love Women to Date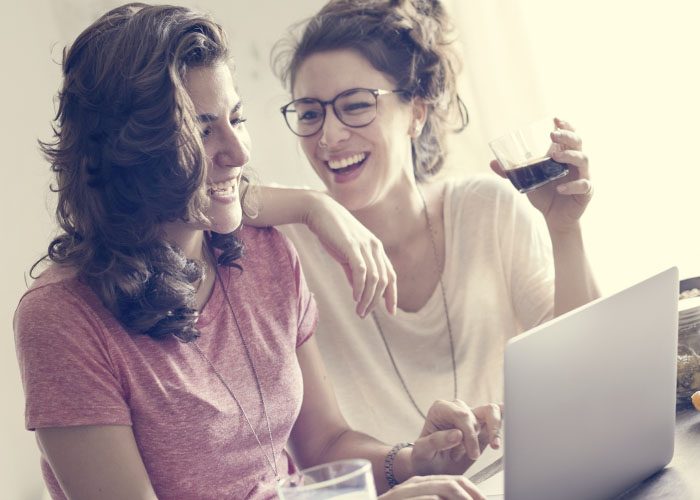 How many times have you approached a woman and thought that she was a lesbian, but only to find out that your gaydar was way off and she, in fact, was very straight? This can be a humiliating experience, especially if you are young or if you haven't been open about your sexuality for very long. The truth of the matter is, you aren't the only one who has gone through this sort of embarrassment and you certainly won't be the last.
Fortunately, because online dating continues to grow in its popularity, people from all walks of life can find someone out there that is on a very similar wavelength as you and have the same desires. Don't believe us? Just think about the statistics. There are billions of people on the planet and of those billions of people, there is a rather large population of singles that are currently in a relationship with someone simply to hide the fact that they may be bisexual or they may be into the same gender. Who is to say that there is no blurred line?
Women who love women often turn to online dating websites because they don't have to guess who enjoys the company of other women and who does not. One of the biggest problems ladies complain about dating the conventional way is that they don't know who are interested in a relationship with another woman and who is only looking to experiment or worse yet, aren't even gay. With online dating, there is no more guess work. The women on dating sites are more willing to let their sexual orientation and their intentions to be known. So this means you don't have to play a guessing game anymore. Who wouldn't like to be able to know for certain that the person that you find attractive and intriguing has the same mind frame as you?
How to Meet Women Who Love Women with Online Dating
Now, surely you're wondering about how you can meet these lovely women who love women. It doesn't take a whole lot of effort or time. All you have to do is join a website that is designed to bring these lovely ladies within your grasp. Upon joining the website, you will be prompted to upload a photograph.
Keep in mind that the photograph you choose should show you looking your best and always smile! Oh, and it has to be current as well. You don't want to fall for a photograph that is 10 years old and the woman looks nothing like her photograph.
After the photograph, you are going to plan what you want to say on your profile. Your profile is going to be your business card. Craft your profile so that it draws women's attention and keeps them riveted.
Make it engaging and interesting. Instead of using the profile as a list of things that you do or don't want, paint a picture of your personality.
The point is that you make your profile desirable for every woman on the site, to make them want to hang out with you and get to know you better.
Talking to Women Who Love Women
When you are going to talk to a woman who loves women on one of these sites, you should always make it a point, to be honest. No one wants to be lied to, and that is one of the ways to get a bad reputation online. People talk, and when it is discovered that you aren't who you say you are or that you talk a good game without backing it up… No one will want to waste their time with you.
Like anything else in life, honesty is always the best policy. Just imagine how messy things become when your lies, even the tiny ones, come to light and you are struggling with trying to find an explanation for your lies. No one wants to deal with that and you shouldn't put yourself in a situation where you have to backtrack.