How to Flirt Online With a Guy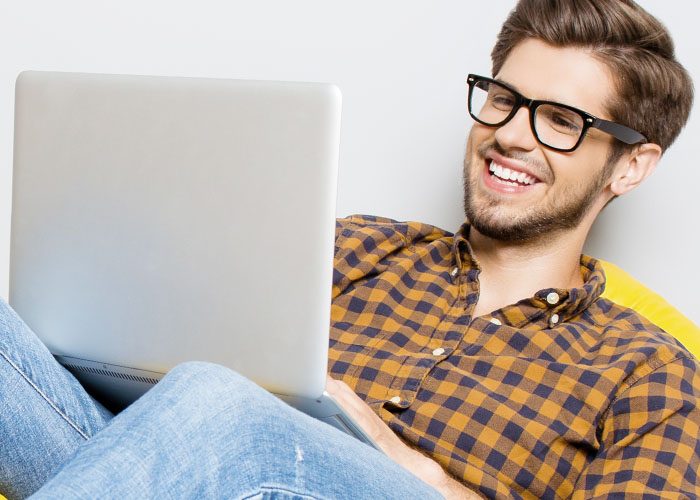 Flirting is, in general, a way to get to know that special guy, so that you can make him like you more and more. Flirting with a guy over text can be a lot of fun when you do it the right way. Besides, flirty text messages help keep in touch when you communicate online. It is, after all, sometimes hard to be around your crush every waking moment.
While flirty chatting can be a tricky thing, here are some pointers and tips on how to flirt with a guy over text. The biggest advantage of flirty texts is that you can be bold and flirty with them. You can write everything you want to say without the risk of coming across as awkward or nervous. However, there are some dos and don'ts of flirting with a guy over text. If you are new to flirting and don't know where to start, stick to the rules listed below. These simple tips will help you master the art of flirting and start an explicit and flirty conversation with any guy you meet online.
How to flirt with a guy via text
You see someone on an online dating site that strikes you like a hurricane and evokes volcanic feelings in you (lovely comparisons, we know. Erm). So how do you contact him and flirt with him?
First of all, read his profile. Make sure you actually register more than his handsome looks. Then shoot him a message. Whilst a wink is easy, messages get replies.
In the message, mention one thing you liked about his profile (compliment him) and ask him a question, so he has something to reply to. Keep it short and sweet and avoid it getting too serious – you don't know the guy, so no need to write a long, deep essay.
For example, you could write: "Hey, Nice profile – I like how much you've traveled (and the tattoo on your arm)! Being an adventurer myself I must ask how you found the camel ride in Morocco – smelly, fun, adventurous, or just a serious case of pain in the butt the next day from the sore muscles? ;) Would love to hear from you (about other topics than camels too!)."
It's fun, easy going and will likely make the guy smile.
When you message someone back and forth, tease, challenge and play, find out who they are (by asking somewhat offbeat questions) and compliment them. Remember that men are hunters and they need to feel power, strength and pride when they win their prize or overcome a challenge. So be a slight challenge and a sweet prize for them. You might hear from your male-friends that they like straight-speaking, plain-dealing and directness. Well, they do, but what they really love and can't resist is intrigue, love games and, of course, teasing. While texting him, play words and reveal your feminine nature. Don't be an easy trophy.
What I mean by teasing and challenging is that most men and women in the dating game like to see that the other person has standards. That's to say, they won't change their entire diary around to fit in a person they don't know, or drop their important work task to reply to a message. They want to be tested before they're made VIP (i.e. before the person they date is willing to change their diary around and drop whatever they have at hand to answer a message – don't answer all messages straight away).
Follow these tips to be the best flirt for him:
Play it casual. Do you know how to flirt with a guy? Do you want to? Flirting by text is easy and can be a fun way to turn any online acquaintance into something flirty – a flirtquaintance! Don't let fear and excitement petrify you. Take a deep breath, exhale and start the conversation in a relaxed style with something like: "Hey, how are you doing?" Be a funny texter and forget saying anything boring! Use a lot of smiley faces to set the tone for a flirtier conversation. Sometimes, a single smiley face or a wink will make all the difference in the world.
Don't talk about yourself too much. The fundamental rule of talking to people is that the majority of us are most comfortable talking about ourselves because we know this topic best of all. So, use the other person's name while flirting, especially when granting him a compliment. If you write that you were thinking of him, this will make your texts even more personal and intimate.
However, you should occasionally share some personal facts about yourself to help him, in turn, to ask you questions. Acting this way, you keep the conversation going and ensure that you are getting to know each other better. But don't speak to a guy in a too direct fashion. Sometimes, a bit of innuendo will be an advantage…
Pay him compliments. Yeah, this might seem difficult and awkward, but it is really very important. A compliment provided on time and sincere can show that you really like him and care about him and that you are interested in dating, or even in an offline meeting. If you don't dare to compliment him from time to time, you risk missing a chance to take your relationship up a notch. That way, you will most certainly stay in the 'friend zone' forever. And in the online dating world this can be dangerous, as he can vanish in the net.
Tease him gently. While it comes naturally to some girls, most of us turn uptight when it comes to teasing guys. This can be especially challenging when chatting online, because you cannot use your body language to talk to him. It's important, therefore, to make the most of your words in order to keep any conversation easy and flirtatious. To start with, you can rely on jokes, banter, sarcasm and bold stuff said as a joke. Of course, remember to make it clear that you're kidding: you should use every textual method to imply whether it's a joke, so smiley faces, winks, caps lock and other punctuation will come in handy.
Always leave him wanting more. Although you might want to chat with him by text endlessly, it's best to leave the conversation before it becomes overlong and boring. A great way to avoid an awkward situation when both of you have nothing to say anymore is to leave before it happens. Say goodbye with something cute and remember to arrange your next interaction.
These are just a few recommendations for how to flirt with a guy over text. Try them out and you will probably find yourself chatting outrageously with a guy from our site in a matter of days. Remember to be yourself when you flirt with someone over text. Feeling confident and audacious is much easier when you text a guy online, rather than talk face to face. Although regular lives do not change much when two people start to chat with each other, text flirting could soon grow steamier and turn into something physical.