Facts About Online Flirting That'll Surprise You! [Infographic]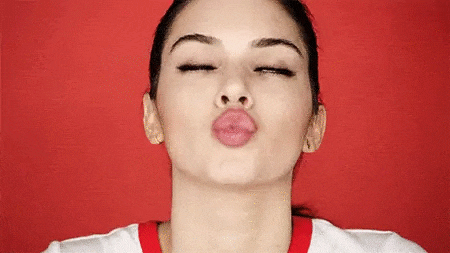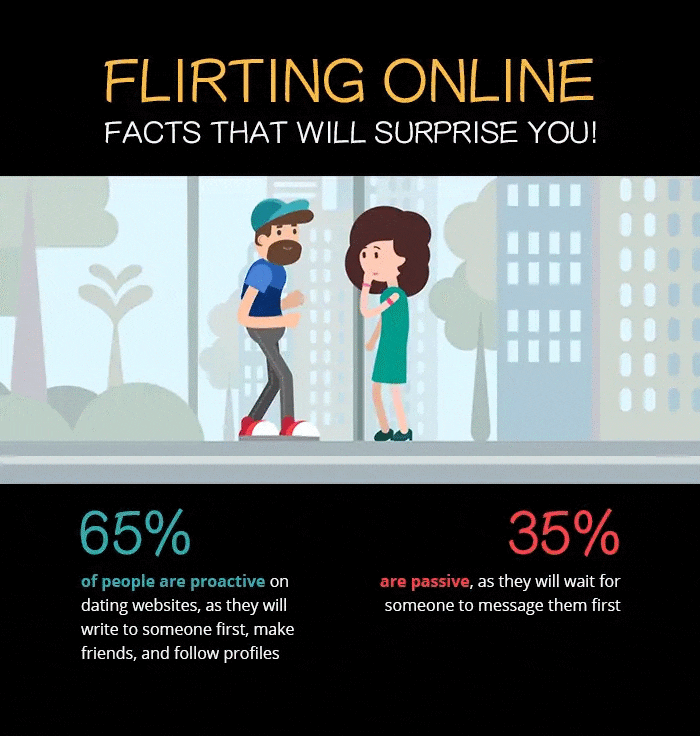 Although there are many, many people flirting online every day, there are still quite a few who don't understand the appeal of it. Well, let's think of it this way. When you join a dating site, for example, you have to be active on the site in order to get the kind of result you're hoping for. 65% of people understand this and they are actively seeking out potential partners. They are sending messages, flirting, and friending people. They are following people they are interested in and they are socializing! Whereas, the remaining 35% are more passive and they just sit back and let someone come to them first.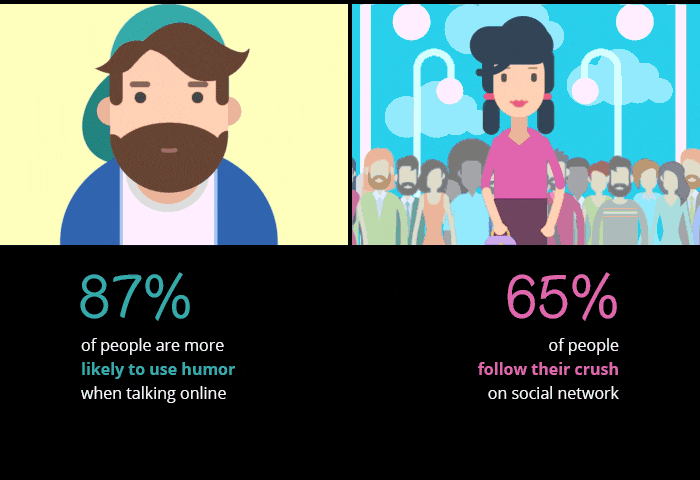 Online dating continues to be one of the best ways to meet people, there's no doubt about that. More and more relationships start because technology was involved; be it through a traditional online dating website, a dating app on their phone, or through a social media outlet. Heck, 65% of people will seek out their crush's social media profiles and friend them. 87% of them say they leave flirtatious (whether they are subtle or obvious) comments on their crush's social media profiles! So, what is it about the internet that makes us want to flirt with people so unabashedly?
The Magic of Technology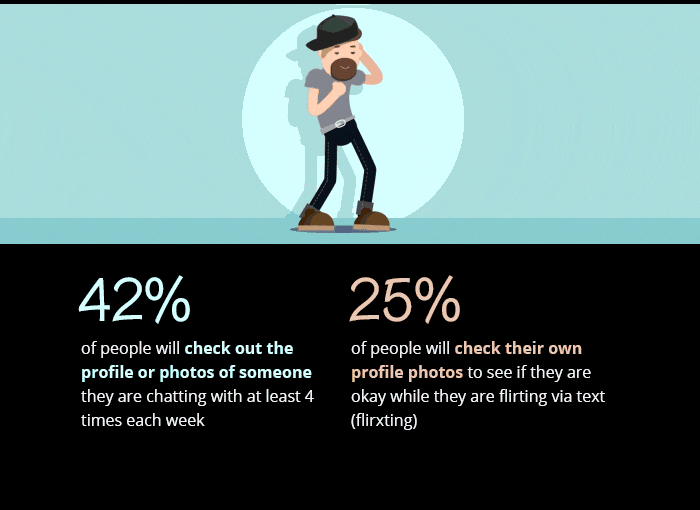 Technology makes it so much easier for us to keep in touch with one another. Sure, we can use dating websites to meet new people, but a lot of people prefer social media to flirt with people they already know, either personally or with someone with whom they have a mutual friend. If we do meet someone in person that we are interested in, Huffington Post reports that 57% of people said that they will look for them on Facebook and friend them. However, 29% of them said they simply research the person on Facebook and other social media sites instead of actually friending them. 26% of people will Google them and find out as much about the person as they can, while 11% will just follow them on Twitter.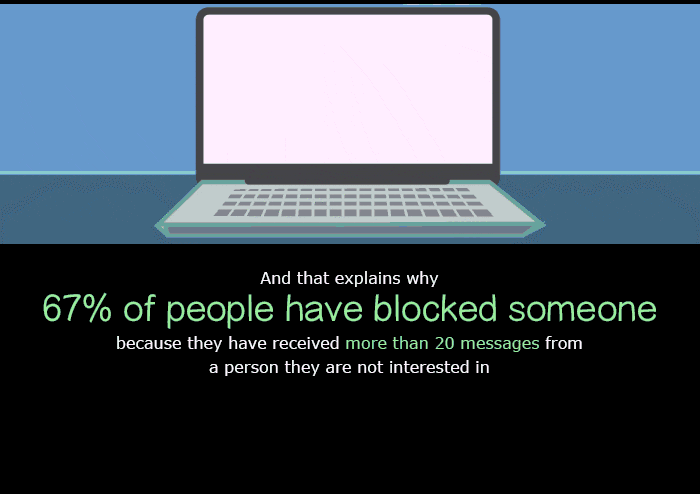 If we are lucky enough to be in a relationship with someone, whether we met them online or not, 38% of people communicate with their partner through text messages and will send about 22 texts per day. Studies suggest that relationships that form and rely on technology to thrive, technology is also going to be the ultimate demise of the relationship as well.
Flirting Online
90% of people after receiving a flirtatious message say they get a little shy and even blush.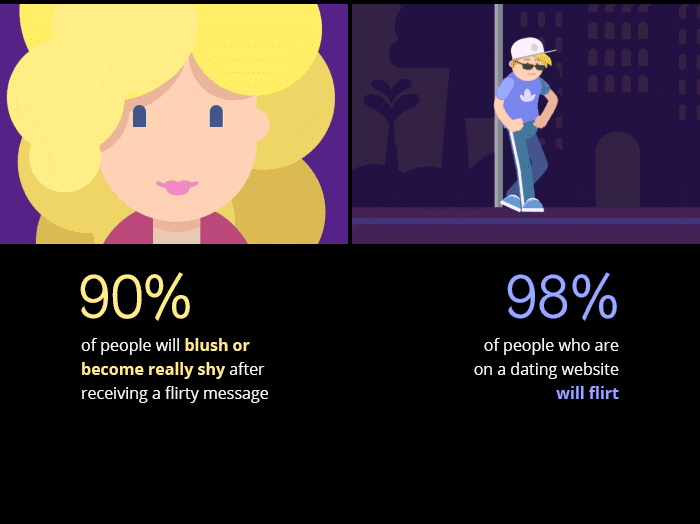 When we are online, we can be anyone. We are braver, more bold, because when we get rejected, we aren't face to face and we don't have that connection. We can just delete the negative message and move on to the next person. We have the ability to be ourselves and let our personalities shine! Hell, for 98% of people on these dating websites, it is the place where they can test out their flirting techniques.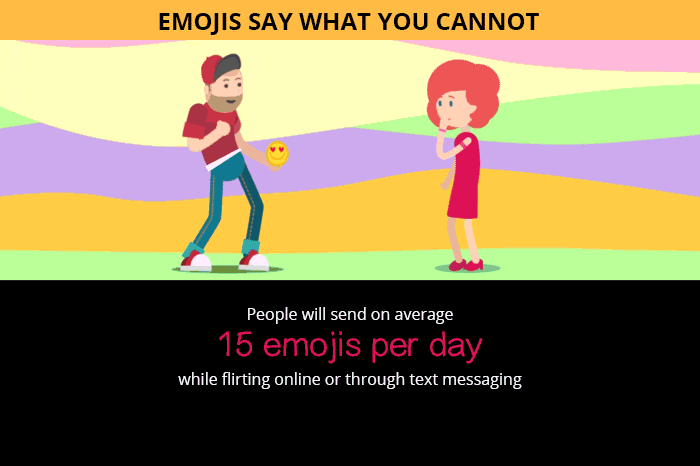 For example, 90% of men will compliment someone in their very first message to them and 5% of people who get these messages will respond within 15 minutes. The beauty of flirting online is that you have time to cultivate a great response because in those 15 minutes, 135 seconds will be spent by the responder to come up with a flirtatious response. Just think of how much better your real life dating experience could be if you had that amount of time to respond when you're face to face with someone who is flirting with you.
The Effects of Flirting Online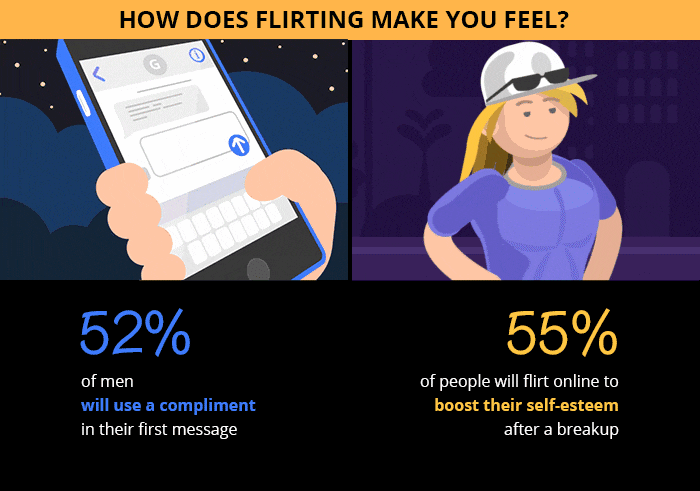 Did you know that 55% of people who join an online dating website do so because they just had their heart broken? They use dating websites to help boost their bruised ego by flirting with other members. While they may not have any intention of going out on a date with them, flirting online can make them feel better about themselves and hasten the time it takes to get over the failed relationship.
When someone does receive a flirtatious message, 80% of receivers say they feel a positive and they feel better about themselves, while 9% said they become a little afraid, perhaps because they don't know how to respond.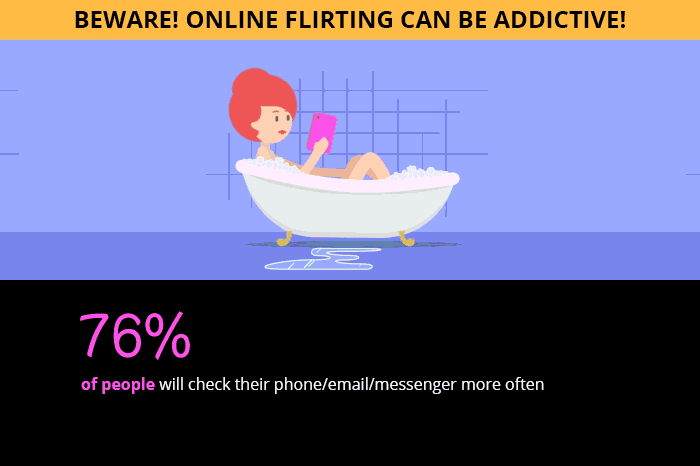 Flirting online and on our mobile devices not only effect how we feel, but it also affects our habits. When we're flirting with someone, 76% of active online flirters will check their phone, email, or messenger more often than those who do not. 42% of active flirters will check the profiles and photos of the person they are talking to, up to 4 times a week! That's nearly obsessive behavior! Okay, maybe not obsessive, but that's quite a bit.
The Key to Flirting Online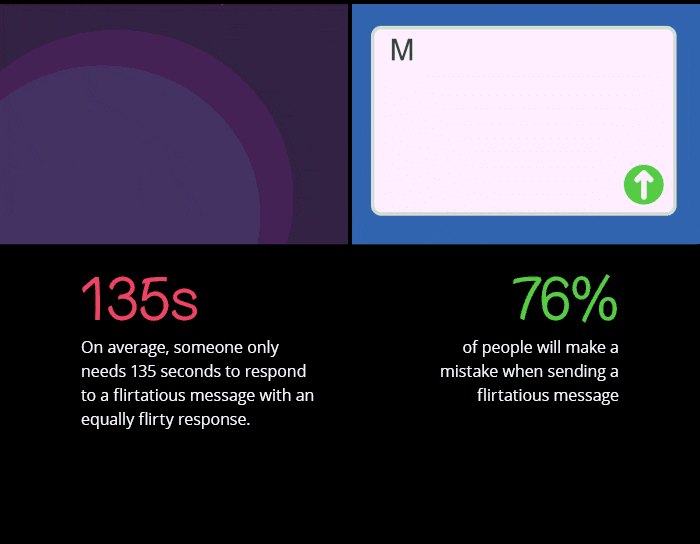 Unfortunately, flirting online doesn't come easy to some people. 76% of people make some kind of mistake while flirxting or sending a message via the website. Okay, we know you're probably thinking, "What is Flirxting?" It's basically flirting while texting.
If you really want to get a positive response, don't waste your time on your typical pickup lines or ice breakers. They don't work as well as some people would have you believe. Instead, use the single magic phrase that works, as discovered by FirstMet.com.
What is that phrase? "Hey, where are you from originally?" When you send that message, you are 75% more likely to get a positive response. From there, you can be like the 87% of people who proceed to tell jokes, or you could be like 13% of people who will flirt while talking about anything but serious subjects.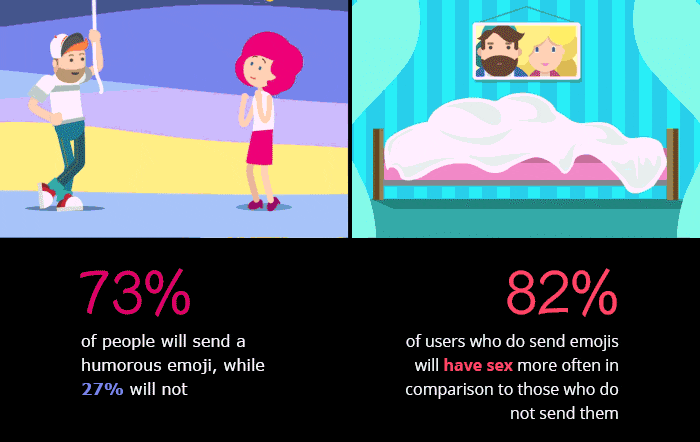 If you're flirxting, 73% of people will send a funny emoji to get the flirting going, while the remaining 27% just stick to using their charm and words to woo the pants off of someone, which is interesting because Pew Research discovered that 82% of people who do send emojis will be more successful at literally wooing the pants off someone than those who do not. Another interesting factoid is that for people who do rely on emojis to help their game, they will send about 15 emojis per day while they are flirting. So that's a whole lot of eggplants, kissy faces, and devil horns!
Online Flirting Wrap Up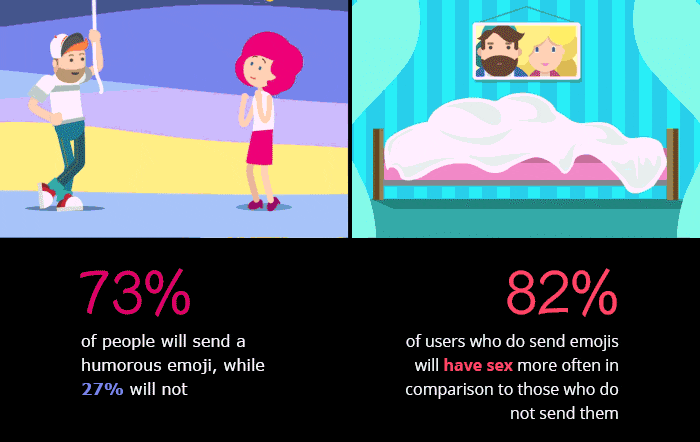 Flirting online can be a fantastic way to boost your confidence, help you meet people, and maybe even help you hone your flirting techniques. It doesn't matter why we do it, all that matters is that we have fun while doing it!
For more surveys like this one, you'll want to stay tuned to Flirt.com!