5 Holiday Date Ideas in London under £30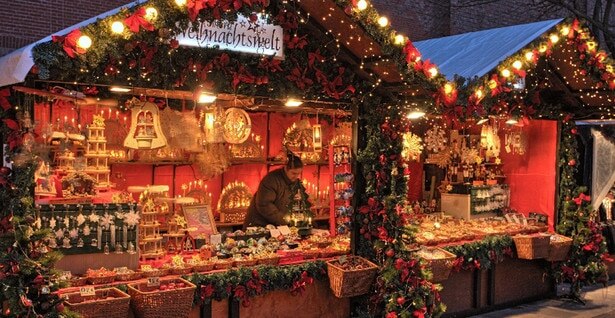 Dating during the holidays can be a little tricky, as most people tend to go all out on gifts for their loved ones. This doesn't mean that you should assume that you won't be going on any fun dates with your significant other. It is quite possible to go out on nice dates and not spend an arm and a leg. In fact, we've come up with 5 romantic date ideas you can surprise that special someone with, all without going over a £30 budget.
Go ice skating around the Swarovski Ice Rink at the Natural History Museum
Cost – 2 adult tickets £25.30 – £30.80 depending on time of session
There is a good reason why ice skating is perfect activity for this time of year — actually there are several reasons. The Christmas music, beautiful light display, the compulsion and need to hold hands to keep yourselves steady, and let's not deny the beauty that is the gothic architecture of the Natural History Museum.
All throughout December, you will find that there are live acoustic bands that are playing festive music on Thursday nights. You can extend the date by sipping on hot chocolate or mulled wine while staring out over the viewing platform.
Watch Christmas on the Big Screen.
Cost – tickets for non-members are £13.50 each
If you and your partner are movie lovers, you would love watching the classic movie flicks on the big screen while snacking on popcorn and snuggling close together. Oh, did you know that sometimes you can take the kids for a singalong movie. In the past, they've had movies like the Nightmare before Christmas and Muppets Christmas Carol! But, if you want to make it a romantic occasion, they have late night viewings just for adults. If you want to avoid singing, you can watch flicks that encourage the audience to recite favorite quotes to screenings of Elf or Home Alone. Then again, for true Christmas movie lovers who want to watch a classic, they regularly show "It's a Wonderful Life."
Visit a Christmas Fair
Cost – Admission to each fair is free, though there are various charges for attractions, rides, and refreshments.
For many, the very smell of mulled wine and the thrill of fairground rides, and various activities is Christmas personified. This is the time of year when we wear hats and gloves and lose ourselves in the fun that is the Christmas fair. The Hyde Park's Winter Wonderland is probably the biggest fair and favored the most by Londoners, but people also enjoy the magical ice kingdom to slide around in and watch the daily circus shows. In Victoria Park, you've got Winterville which is an alternative Christmas fair that offers a joyful combination of street food, artisanal stalls, cabaret, live music, and even an enchanted forest cinema that offers your favorite your Christmas films.
Search for Clues All Over the City Together
Cost – £25 per couple for a 2-3 hour hunt, not including drinks
Sometimes there is nothing more romantic than wandering around your city on a mystery hunt. Hidden City Hunts help you discover your city in a whole new way. You start the adventure at a starting point and you will receive a series of clues sent to you via text message. You and your partner to get to the next location. Now, be aware that there is no prize to be won, just a leaderboard that lists the fastest times, as you have a maximum of three hours. A Christmas themed hunt takes place during December and promises to take you to rooftop vista that allow you to gaze across the bright lights of the city.
Play Musical Bingo
Cost – £12 per person entrance, includes all bingo games but not drinks
Every once in a while bingo brands will do their best to convince the public that bingo isn't just for the elderly. In fact, many young people are taking to bingo and having a blast doing it. People who attend Musical Bingo don't treat the game like it is surgery — they have fun and instead of calling out numbers, they play songs that you check off your game card. There's comedy in between games, fun, and more music. During the holidays, there are Christmas themes and no shortage of tinsel or glitter.