5 Ways to Get Them Interested in You without Actually Flirting with Them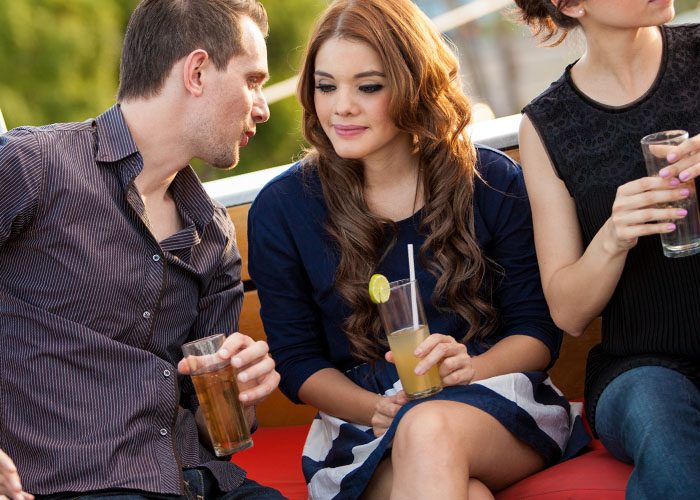 Flirting is an art form that many people just don't understand the nuances of, and therefore simply do not even attempt it. We do this because we fear rejection. When we're rejected, we feel unlovable and unwanted, and it sometimes feels like we will never try it again. For some people, it can take a really long time to bounce back.
The truth is, flirting is quite a bit of fun, even though you may think you aren't any good at it. Here are 5 ways that you can flirt that aren't so obvious and you will have less of a chance of having your pride hurt should you be rejected.
1. Wearing the right clothes makes a huge difference
Your choice of clothing speaks volumes about your personality whenever you walk into a room. When you feel sexy, you're probably going to wear clothes that reflect that. When you aren't feeling the best, you aren't going to put much effort into coordinating your outfit. Also, did you know that the color of your clothing also reflects the way people see you? In order to evoke the feeling of romance, try soft colors.
2. Change your tone of voice
When people flirt, they think it is all about WHAT they say. They rarely think about HOW it is said or the tone of voice in which they said it. Have you ever noticed women who have a high pitched voice or those with a sultry voice that oozes seduction? These tones tend to bring men to their knees.
Unfortunately, unless you are someone who uses their voice a lot, you aren't taking care of your voice. This means not smoking or straining your vocal chords. However, you can still practice speaking with a sultry tone (or high pitched tone) if you can manage.
3. Be a good friend
This is one of the absolute easiest ways to flirt. Think of all those men who were there for you when you were shy. Their friendly actions may have caused you to become attracted to them and look forward to seeing them again. This tactic can be done with men too!
4. Kill him with kindness
You know the saying that you attract more bees with sugar than vinegar. Don't be stingy with your sweetness! Men believe that when a woman is kind and generous to them, they will do the same for their family. When a woman has a kind heart, he knows that she won't do him wrong – which is very attractive to men.
5. Be Miss Congeniality in real life
When you are full of life and love to live it, men will take notice. Why, not just men, but women too. People love to be around others who like to get out there and live life to its fullest extent. They create an aura of excitement and vivaciousness that simply cannot be denied. For a man, this is almost a sure fire way to set his heart a flutter.