7 Romantic Date Ideas You Can Do At Home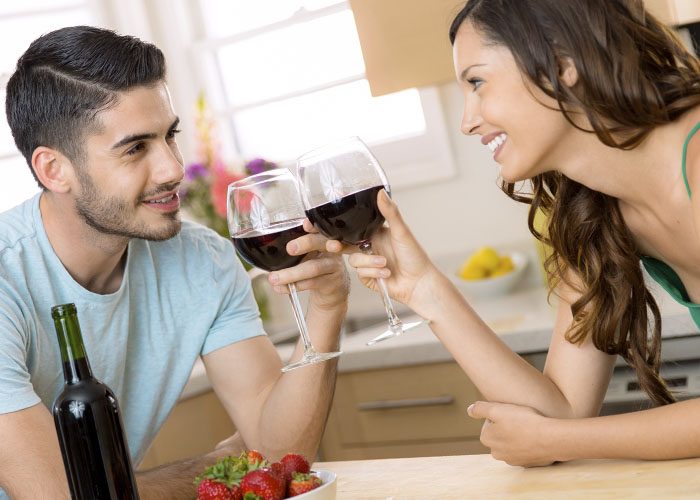 Romance is more about the time you spend with your loved one rather than how much money you shell out for a fancy dinner or those expensive box seats at the theater. When it comes to dating, a romantic date can mean so much more when you take the time to make it so much more special by planning a nice evening at home.
The woman in your life will appreciate the time you take to plan a romantic date at home because it takes creativity, initiative, and enough forethought to make sure everything goes well.
Here are 7 ways you can enjoy a romantic evening at home with your partner and sweep them off their feet in the process.
1 – Pick the location.
If you have a garden, you have the perfect setting for a romantic date — especially if you are planning it during the time of year where there aren't any pesky mosquitos or bugs buzzing around. If you don't have a garden, you can choose a location where you don't normally eat (bathroom not included…).
Sometimes all you need is a fancy table and that's it.
2 – Go all out on the romantic decorations.
If you've ever taken notice of romance movies, you notice that when there is a romance sequence in the film, there are plenty of candles, flowers, flower petals, and twinkling Christmas (or fairy) lights. When you use these decorations, you are harkening on every rom-com ever made—and these are things that make the women go wild.
3 – Use your best tableware.
If you have a set of dishes or stemware that's been in your family for a long time and you only use it for special occasions now is your chance to bring them out and get some use out of them. Your partner will understand how special the date is once they see the fancy flatware and beautiful crystal glasses. It adds to the atmosphere and when you dine on a delicious meal and sip on fancy champagne or wine, it only makes the evening that much more special.
4 – Play dress up.
Use this opportunity to truly take the burden off of your partner by choosing an outfit that you'd like for her to wear. If you know her size and taste in clothing, you can truly surprise her by purchasing a new outfit for her and ask her to wear it to the date. Also, you should wear your best clothing as you don't want her to feel over-dressed!
5 – Create a romantic playlist.
While you are dining on your delicious dinner, you will want to play romantic music in the background so that it sets the mood. Your playlist could include songs that make you think of your partner, or they could be slow songs that just get your juices flowing and make you want to pull your sweetheart close and whisper sweet nothings in her ear. Either way, just make sure the music isn't too distracting.
6 – Take a fantasy trip somewhere romantic.
Perhaps you both always wanted to travel to Greece and soak in the beautiful scenery, but you don't have the funds to actually go. Or, maybe you've always wanted to dine under the stars on the beach of Saint Martine but you haven't had a chance to go. Now is your opportunity to create the ambiance you would expect to feel while there. Cook food that is native to the desired location. Decorate according to the destination. You could even go so far as to play music from that country. You are only limited by your imagination!
7 –  Rent a movie and chill.
We aren't necessarily saying you have to Netflix and chill, but… Yeah. Rent a few romantic movies pop a bag of popcorn and set the mood for a movie marathon made for couples. You can even create a comfortable setting by pulling the mattress off the bed, blowing up the air mattress, or just covering the floor in comfortable pillows and blankets. The name of the game here is creating a setting that you won't want to leave — even after the movies are over and the sun is seeping in through the windows.