Date Night Colorado Springs Ideas that Work

Colorado Springs caters amazingly to both nighttime and daytime dates, thanks to the variety of attractions, mostly geared towards outdoor recreation make up for great dating spots in Colorado Springs. Easy trips from Denver also play a role in making it a great place to meet your romantic partner for the first time. The nightlife scene is just as vibrant and provides some amazing opportunities to people who'd want to linger around in late hours. You can find many top hotels in the area, so it's easier for out-of-towners to accommodate them while having a date night. It's quite possible that you're not a local but coming to meet someone who knows the town inside out, and that's mainly because of the use of online dating sites.
A number of good platforms are now available where you can meet singles from Colorado Springs and even discuss more about your options to enjoy a date in the area. Time spent in chat rooms will also make you an expert in identifying the best spots in Colorado Springs to meet your newfound love. Just don't forget to check some of the best date ideas mentioned here to have some unforgettable time in the area.
First Date Ideas
The concept of ideal date varies from person to person, but mostly, you can make it work by sticking to a place where you can indulge in direct conversation without being distracted by what's happening around you. But again, it all depends on what you find interesting.
Listen to Live Music:
A great first date idea is to meet your partner while enjoying live Jazz music. A fine choice would be Motif Jazz Café, where they have the right combination of sultry music, low lights, and fancy cocktails. The romantic ambiance you get there will give you a unique dating experience for sure.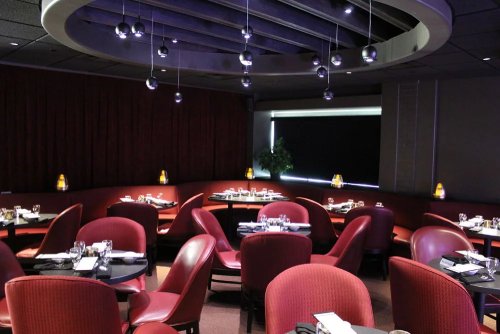 Enjoy a Romantic Stroll:
It might sound a bit unromantic, but taking a stroll around Broadmoor Lake in Colorado Springs can surely serve as one good first date idea. You'll love the atmosphere with twinkling lights reflecting on the water. Just don't forget to stop for a cocktail at the Hotel Bar, where you can enjoy some cuddling beside the massive hearth.
Have a Dinner Date:
It might sound a bit cliché, but the truth is that a dinner date is one of the best first date ideas, even when you're in Colorado Springs. Simply head downtown, and you'll make it much more exciting. A great option is to eat out at Bonny and Read, where you'll love the seafood. Order the seafood tower, which is a perfect combination of crab, lobster, shrimp, and oysters.
Take a Cooking Class – Together:
Yes, it looks simple, again, but it's undoubtedly effective because it gives you the permit to be a bit flirtatious. You can find a number of good classes from simple bread making to full-fledge meals at the French Kitchen Culinary Center. If you're picking it, opt for their Fix and Feast class, which is especially designed for couples who are more into sampling than really preparing the food. This 3-hour class will leave you satisfied and give you an idea if you really want to continue dating the person… (wink!)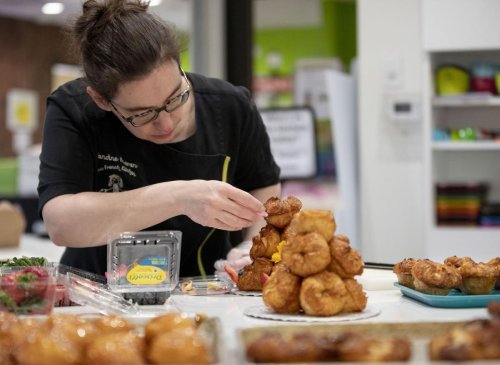 Watch the Sunrise:
What's so special about it, you ask? Well, you need to do it while soaring above the city in a hot air balloon. For this, you can contact Adventures Out West, who offer the best deals to enjoy a ride in the sky. Your partner is surely going to find it romantic while floating over the mesmerizing Colorado scenery.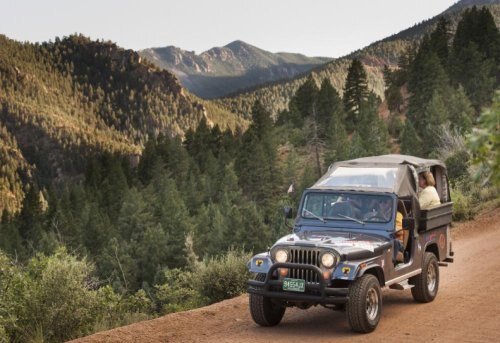 Fun Date Ideas
When in Colorado Springs, you'll have so many opportunities to enjoy a fun date with your partner. It may be your first date, or you may have enjoyed several meetings before, but you can always get creative and find a new way of celebrating your night or a daytime date. Here are some cool, fun date ideas to consider:
If you're looking for a fun-filled date night, you should always plan an outing around Tejon Street. This nightlife district has so much to impress you, including bars and restaurants. Quite interestingly, you can plan a visit on the weekends and meet someone special, if, of course, you don't already have a dating partner. And if you're with someone, you can try many ways to romance your partner while enjoying the vibrant nightlife here.
What's more fun than having a good laugh with your dating partner? That's exactly why you should keep "stand-up comedy" on your list for perfect fun dates. A great place to find the finest stand-up comedians in the area is Loonees Comedy Corner. You can find a show anytime you want, and the fact that you can get food and drink makes it a lot more interesting spot for a romantic outing. Be sure to reserve your spot before you come to avoid any inconvenience.
Go Climbing with Your Partner:
It's going to translate into a fun outing if both of you are fitness enthusiasts and love to break a sweat. You'll find it quite romantic to place your life in your partner's hand, as you need to trust the other person when climbing. You can have fun climbing epic heights at Red Rock Canyon Open Space. Once up, you're surely going to admire the whole view of the iconic sandstone monoliths. Interestingly, you can try indoor climbing with a partner, and for that, you need to visit CityRock, which is one popular climbing gym in Colorado Springs.
Explore a Brewery:
How about paying a visit to a brewery for a great daytime date in Colorado Springs? You really can't pass the idea if you're a beer lover. Thankfully, you can find dozens of breweries as well as cider houses in the area. You can even customize a brewery tour to make it more personalized. Some great options include Bristol Brewing Company, Manitou Brewing Company, Phantom Canyon Brewing Co, and Goat Patch Brewing Company
Romantic Date Ideas
You can try many romantic date ideas in Colorado Springs to set the mood and impress your dating partner. When planned properly, any date can make your sweetheart feel special. Keep in mind that you can get as creative as you want and still get all the praise from your partner, so it's just a matter of finding what clicks with you and your sweetheart. Nevertheless, here are some unique romantic date ideas to consider:
It's extremely romantic to check some stunning waterfalls with your partner, but it gets even better when you try one of the best "lit up" waterfalls in Colorado Springs, Seven Falls. This romantic place will make you fall in love with your partner all over again. It's a great place for your first date, but it's also one of the best spots to reignite the spark in your relationship. This 181ft waterfall becomes even better when you consider the fact that you can climb up a staircase and enjoy an amazing view from atop with your partner. If you get lucky, you might also be able to catch some live performances there. There's an onsite restaurant where you can enjoy quality food in a rustic, Colorado setting.
Enjoy a Hot Springs Night:
You just need to plan a visit to SunWater Spa for the two of you, and the rest will fall into place on its own. It's a perfect way of having a romantic date with your partner, and it's going to be extremely relaxing at the same time. You'll find cedar tubs filled with hot springs mineral water and tucked away nicely under the stars and giving you the perfect view of the nearby mountains. You can also take advantage of one of three pools they have inside – they're also filled with mineral water. You should definitely consider this option if you want to relax while enjoying nature with your partner.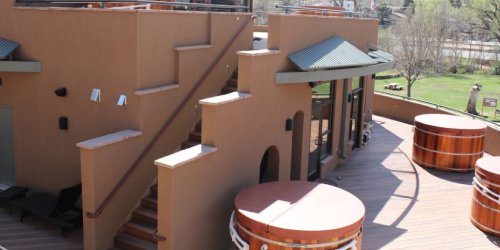 Visit the Spa:
Spending a day at the spa is one outstanding way to relax while getting to know each other better. You can bliss out together at Alluvia Spa, where you can pick from a variety of packages, including the couples' packages that include complimentary champagne, foot therapies, Swedish massages, and much more. You can even get a room there if you're willing to do the extra work to know your partner more.
Explore the Arts:
If you're an art lover, then chances are your partner also enjoys getting an opportunity to explore art galleries and other similar places. You can find plenty to satisfy your artistic senses because Colorado Springs is home to many art galleries, including Chavez Gallery, S.P.Q.R, Kreuser Gallery, and the Bridge Gallery. The Colorado Springs Fine Art Center is yet another place to visit and witness works created by O'Keeffe and Chihuly.
Cheap Date Ideas
Date nights or even daytime dates don't need to be expensive all the time. Sometimes, you just need some time off and spend quality time with your partner. The good thing is that Colorado Springs is one perfect place to spend a quality day with your romantic partner without having to break the bank. Here are some cheap date ideas to try:
Enjoy Hiking:
Make it even better and consider hiking in the moonlight! Hiking is usually for the adventurous type, but you'll be amazed at how quickly it becomes romantic and intimate when you do it after dark. You can plan a visit to the Garden of the Gods and have some hiking fun in the moonlight. No one would notice you if you steal a smooch quickly! You can also add to the whole experience by stargazing from the pavilion on the lake.
Take a Dance Class:
Getting that swing will bring you two closer and help you spend some quality time without having to worry too much about the money you spend. Whether you're an advanced dancer or a novice, you can go to the Loft in Old Colorado City. They have beginner lessons available for those who love to dance but don't know how. To make it even more exciting, ask them when they're going to feature a live jazz band and plan your visit accordingly.
Visit the Theater:
Whether you want to watch a romantic movie with your partner or you're interested in catching a classical concert, you can find a number of good theaters in the area. You might want to visit the Pikes Peak Center, where they entertain you with Broadway shows, classic concerts, and much more.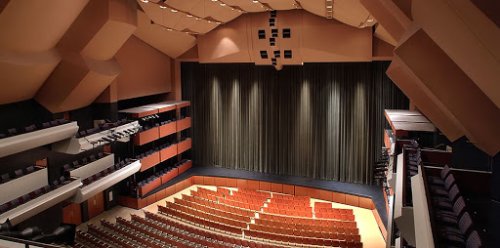 Satisfy Your Love for Books:
You can try it if your partner is always ready to read or talk about some good books. You can visit some nice bookshops together – Poor Richard's is one outstanding choice. You can share your thoughts with your partner while browsing through the carefully curated gift store. You can find many new and old books to buy there.
The fact of the matter is that Colorado Springs is well-equipped with everything needed to make your date as memorable as you want. You just need to work closely with your sweetheart to decide on exactly what will keep you occupied and still give you ample time to share your true feelings for each other. Again, use your time on dating sites productively by engaging in chat rooms, and you'll surely come up with nice date ideas in the best date spots in Colorado Springs.