Foolproof Ways to Ask a Man Out on a Date that He'll Not Want to Turn Down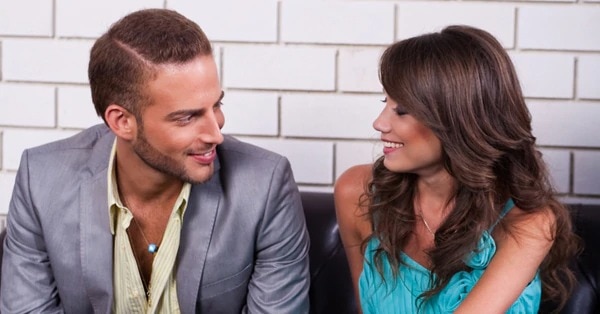 Ditch the flowers and cards, if you want to ask a guy out, use these creative tactics to make him say yes.
1. Say it through food.
We all know that the way to a man's heart is through his stomach. What a more perfect way to ask him out than with a surprise delivery of his favorite pizza. You can ask the pizza place to write a message asking him out on the lid of the box, or if you make the pizza yourself, use the toppings (pepperoni, mushrooms, olives, whatever he likes) to ask him out.
2. Take him to a sports game.
If he loves a good baseball game and frequently goes to a particular stadium, you could hire out one of the message boards and ask him that way. Keep in mind this is pretty risky because you could embarrass him. But if he says yes, then you can be sure this would make a fantastic story to tell over the holidays.
3. Kissagram.
You can hire a lovely lady to go to his house with a kiss and a song, asking him out on a date. While not many women will do this because of jealousy issues, you can believe that once you show him how laid back you are, you'll win his heart.
4. Make a video on YouTube.
If you are a creative person and pretty tech savvy, you can create a cool YouTube video where you are asking him out. Guys tend to favor flashy videos so this is definitely one to impress. Keep in mind that you don't want to make it a cutesy video filled with romance and mushy stuff.
5. Six Ways to Ask.
If you know his favorite beer, get a six pack and remove the labels from the bottles and replace them with labels asking him out on a date. On each label, you can suggest a date and leave him instructions telling him to leave the beer with his choice of a date full so you know that he said yes.
6. Create a jigsaw puzzle.
There are several websites where you can create a custom jigsaw puzzle using your own pictures and even messages. This idea may seem a bit too sentimental and weepy for those who aren't on that level, but it can be a great idea if you've been friends for a while and already have some chemistry. Amp it up by using a picture of you scantily dressed and you're sure to get a date.
7. Get him drunk.
Avoid beating around the bush and get straight to the point with this option. Simply buy him a few drinks, let him vent about whatever and then see where that lands you.
8. Posters galore!
Create some fake posters based on his favorite movies and work your invitation somewhere in the design. Then post these posters anywhere you think he will see them.
9. Give him money.
No, you aren't paying him to take you out. Give him a few bucks with a note attached that says, "This is so you can buy me a drink." This approach is direct and it shows that you are serious.