How to Create a Good Online Dating Profile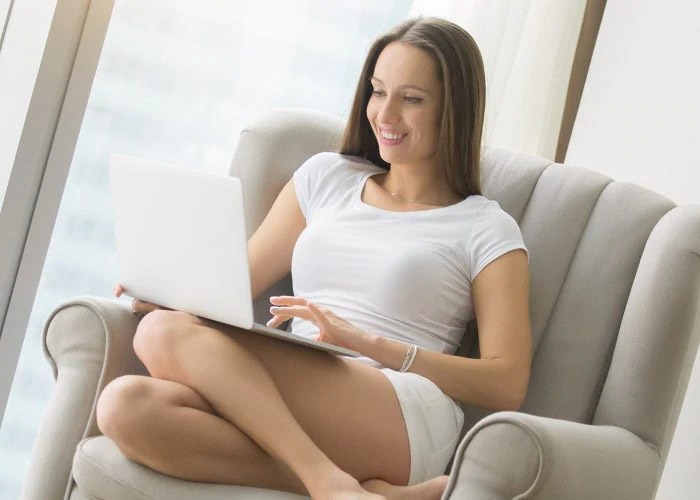 Learn how to create a good online dating profile
Do you need help with penning the perfect online dating profile? If so, read on. Creating an online dating profile is so much more straightforward when you think about what the people you are hoping to attract are looking for. In this guide, we will tell you how to write a good online dating profile that speaks volumes about who you are, makes you stand out from the crowd and helps you make the best first impression possible, whether you're male or female.
A fast-growing trend
Online dating frequently makes the headlines these days. Studies on the topic are seemingly conducted all the time, with researchers coming up with all sorts of findings on internet dating trends. Meeting people online is fast becoming the norm, with more and more people finding their perfect partners via the internet. The stigma that once surrounded online dating is now gone forever, although you do still need to take care to avoid putting yourself in danger when meeting new people. When you create a dating profile, you need to be authentic without forgetting to sell yourself and ensure the content is appealing to other people. It's never wise to lie when creating your profile, nor is it a good idea to say anything negative in the content.
Stay on point when creating a profile
It's best to only add relevant info to your dating profile. Most people won't have the time to read thousands of words about your backstory, so if you have included something that could be left out for later conversations, consider editing it out. Try to focus on the present rather than the past and try to be as light-hearted as possible. Remember, a dating profile is not a CV or a job application, so don't approach it as if you are hoping to impress an employer. Try to be confident without being arrogant but don't talk about your worries or anything you don't like about yourself. Completing a dating profile is a great opportunity to remind yourself what your best assets are, so don't hesitate to talk about them.
If you are completing a profile for the first time, don't be afraid to ask for help from someone more experienced, but don't get them to write your profile for you. The information should come directly from you. Potential partners will want to know what stage you are in life, so consider talking about what you're doing now and what you intend to do in future. This will give readers a chance to see whether your goals align with theirs. Don't forget to run a spelling and grammar check before you upload anything – bad spelling and grammar can turn off people who you are perfectly suited to.
Creating the ideal profile
Imagine you are your perfect partner and think about what would appeal to them. Talk about your most interesting and appealing traits, leaving out things that you wouldn't deem to be desirable. Though honesty is always the best policy when it comes to creating an online dating profile, it cannot be emphasized enough how important it is to avoid negativity. Talk about your key passions, interest, hobbies, and career and try to avoid clichés if possible. Most people are enthusiastic about making the world a better place, but this won't be engaging dating profile content unless you are specific about how you would do it and what you think the biggest problems are. The vast majority of people also enjoy things like music, films, TV, and books, so make sure you include information about your favorite genres and titles.
Fun and humor
Use humor to help yourself seem approachable, but don't include a wisecrack every other line. By including a small number of amusing lines or jokes in your profile, you can come across as welcoming and fun without overdoing it. It really is important to try to and be as distinctive as possible to stand out from the crowd and keep people reading. The huge amount of profiles featured on dating sites makes it all too easier for viewers to head elsewhere if they find themselves feeling bored after two or three paragraphs, so try to be concise and to the point when penning your dating content. The more specific you are, the better. Try to give potential partners topics to build upon when they strike up conversations with you in future, online and offline.
Speaking of offline meetings, there is no need to move things away from the online environment until you feel completely comfortable in doing so. Whilst many great relationships have formed after just one or two online conversations, some people prefer to take weeks or even months to get to know someone before they meet in a real-life setting. Similarly, you don't need to respond to every message that you receive. If you are contacted by someone you doubt will be right for you, you can either ignore the message or simply give a brief response to let them know you are looking elsewhere. Don't be offended if you receive this treatment – there are scores of potential partners online and chances are someone more suitable will be waiting just around the corner if you do experience rejection.
Use recent photographs
When it comes to photographs, it's again best, to be honest. You may well prefer the way you looked ten or twenty years ago, but viewers will want to see what you look like now as opposed to way back in the past. If you don't have any suitable recent photographs, consider having some taken for your profile. Try to use something natural rather than something you have posed for in a studio, and remember to smile. The best photographs for dating profiles are often those taken at social events such as concerts, weddings, and parties as these show you in a real-life environment. Make sure your main profile photo is one of you alone so there's no confusion around which person you are. You can always add photos of yourself in groups to your gallery. If you're not looking for a same-sex partner, it's wise to avoid uploading photos of you next to someone of the opposite sex as viewers may suspect you are or were romantically involved with them. Make sure you choose photos that present you in a positive light.
Leave them wanting more
The best profiles are the ones that are similar to trailers in that they leave readers yearning for more whilst providing tantalizing information about what to expect. Feel free to save some key information for later. There is no need to discuss past relationships at this stage. If you have been married before or have children, you will probably want to mention this, but it's definitely wise to hold back when it comes to criticising former partners or expressing regret over former relationships. If there are non-negotiable factors, feel free to mention this. Some people will only consider employed partners or people in a certain age group, whilst other people demand confidence, integrity and a sense of humor.
Getting help
If you do decide to get a friend to help you, make sure it's someone who has a positive attitude to online dating. If you get assistance from a skeptic, their cynicism may negatively influence the content. One reason for asking for help is that it can be hard to edit everything down into a concise overview of who you are and what you are looking for. They may be able to help decide what to include and what to leave out and should be able to take a good look at your profile before you make it public. Always read the content over a number of times before you upload it to make sure you are completely happy with it. Remember, you can always edit it later if you have something new to add or decide to remove something irrelevant or potentially off-putting.
Get the most out of the experience
Don't forget that online dating is supposed to be fun. The more positive your approach is, the better the results are likely to be. There are all sorts of advantages to using online dating sites to find your perfect partner, and chances are your experience will be an incredible one as long as you are aware of the pitfalls and read up on how to mitigate them. Growing numbers of singles are using online dating services through apps and websites all the time. If you do find the idea of online dating daunting, think about how many strangers you have got to know via other channels such as Facebook and Twitter. Chances are it's a substantial number. Leading online dating sites have tens of millions of members, which lends further weight to the idea that the stigma has been completely removed from seeking romance via these channels. Dating sites also use the information that you give them to suggest potential partners to you, which makes it easier to focus in on those most likely to match your interests, passions, and personality.
Make suitable matches visible
Many people complain about finding it tough to meet people with shared values in their local area, despite the way evidence suggests that there are many suitable matches nearby. If you're the kind of person that feels too shy to approach attractive people offline, taking things online may be the ideal solution. Online dating is also ideal for people living in rural, isolated or sparsely-populated areas where opportunities to encounter new people are limited. It's now estimated that one in five relationships begin online, and this number seems only likely to grow in future. Many marriages have occurred between people who first met online. If you have grown tired of waiting to meet the right person and wish to make suitable matches with the same interests as you more visible and approachable, online dating may be the key to your romantic happiness.
Finding inspiration
If you are struggling for inspiration for creating an online dating profile, there are many templates you can use to get started. Many people search for dating profile examples for men or women in order to kickstart their profiles and decide what to cover in their content. Dating profile examples can be worth their weight in gold as long as you only use them for inspiration and don't copy them. People use search engines to find out how to make a good dating profile all the time, and it's only natural to seek out help when dipping your toes into the online dating waters for the first time. The evidence to support online dating is mounting, with couples who met online less likely to divorce according to a University of Vienna study.
Conclusion
To conclude, there are all sorts of things you can do to make your profile irresistible to others whilst remaining honest and avoiding off-putting arrogance. Remember to be specific about your interests and hobbies, avoid clichés, get help from an enthusiastic friend if needed, talk about your future goals, upload recent photographs taken in fun situations, avoid negativity, check and proofread your content before posting, be positive and concise, and update your profile when necessary.