How to Flirt on Halloween: Seduction Tips for Fright Night!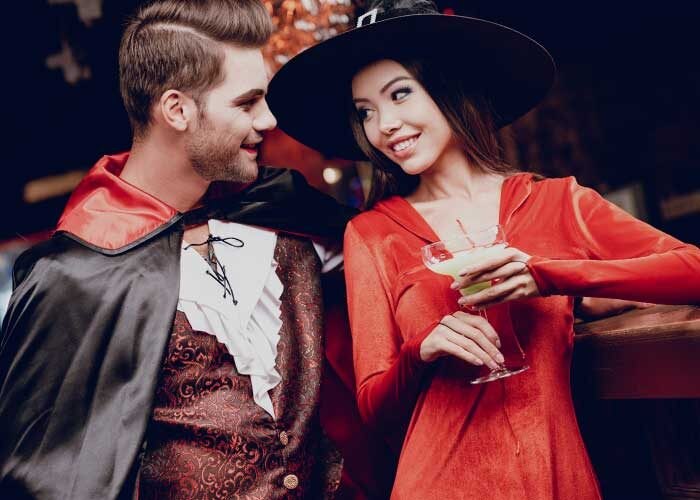 Everyone knows that "anything goes" on Halloween, so if you're looking to hookup with someone new, now's the time. Everyone is out and about, in good spirits and ready to have a great evening. It's one of the most fun nights of the year and provides an ideal chance to unleash your flirtatious side. If you want to give yourself the best chance of connecting with a great guy, head to a party or three. In fact, RSVP to as many as possible, grab your friends and start planning a fantastic costume that won't fail to catch the eye of your Mr. Right.
How to flirt with singles on Halloween
A singles Halloween party provides a great opportunity to flirt with women you like, so make sure you attend at least one! The 5-second flirt technique is worth a try, particularly if you're not confident enough to approach women face to face. All you need to do is gaze longingly into their eyes for five seconds. Although this can seem like a long time, it can be a sure-fire way of letting a guy know you're into him. It's sure to get him a little hot under the collar! Here's how to flirt on Halloween.
Think of some great costume ideas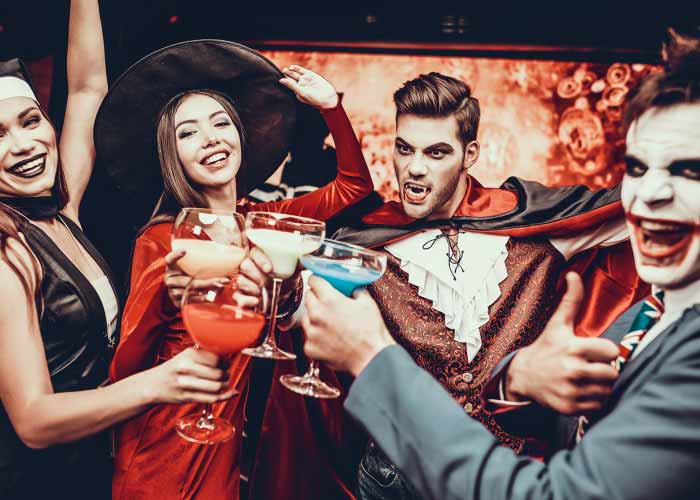 If you're going to Halloween party, you simply must wear a costume. If you can't get into the spirit, people are less likely to talk to you, which means you probably won't meet anyone. After all, no-one likes a party pooper! Think of a flirty Halloween costume idea that will give you a confidence boost and allow you to be the person you've always wanted to be. Consider dressing as a superhero. Donning a cape will give make you feel powerful, daring and bold, helping you to step outside of your shell for the evening. Choose a flirt costume that makes you look and feel great and it's guaranteed to provide many flirty conversation starters!
Compliment her costume
Halloween party conversation starters don't come much simpler than complimenting someone's costume. If you want an excuse to approach the girl you like, all you need to do is tell her how great her costume is. Let's face it, everyone loves to be told that their outfit is awesome, particularly if they've put lots of effort into getting it right. So, walk right on up to that gorgeous girl and let her know that you love her costume. You'll instantly have her attention!
Avoid huge and crowded parties
If you're serious about making Halloween love happen, you may want to avoid parties with a massive turnout of people. It can be tempting to attend a huge party, especially if it's the place to be seen on Halloween. However, you're less likely to meet someone new. Choose a more intimate event so you can meet a girl and really get to know her. If you get chatting with a girl you like, make sure you get her number early on in case she disappears in the sea of people. It can be difficult to keep track of people at Halloween parties!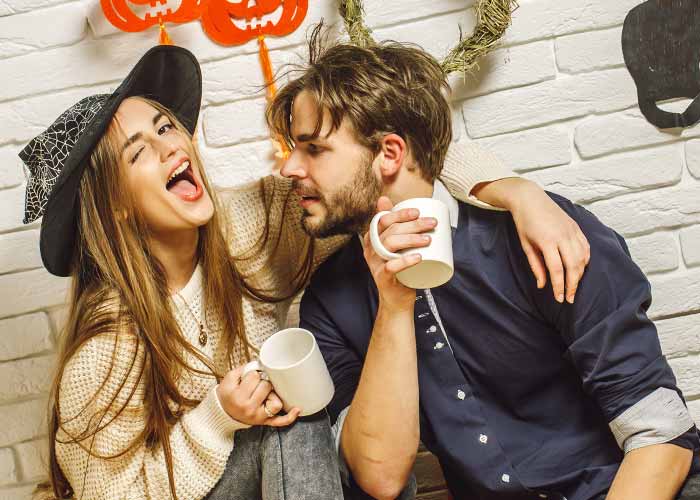 Whilst Halloween parties are a great excuse to let loose and lose your inhibitions a bit, it's not a good idea to completely lose your mind. Getting drunk won't do you any favours when it comes to flirting with a girl you like, especially if you're too far gone to talk to her properly. Chances are, you'll end up having to go home early, giving some other man a chance to chat up your girl. What's more, drinking too much could put you in danger, especially with some people looking to stir up Halloween mischief. Pacing yourself will help you to stay aware and alert.
Things to do on Halloween for couples
Halloween isn't just for singles, so if you're in a couple, you can certainly still get involved. There are certainly many ways you enjoy this spooky night together. After all, a scary and unnerving setting will give you the ideal chance to cuddle up and hold hands! Here are our favourite romantic Halloween ideas for people in relationships.
Enjoy a scary movie marathon
If you're wondering what to do on Halloween with your girlfriend/boyfriend when you don't want to venture out of the house, consider a scary movie marathon. Watching horror movies will give you the ideal chance to snuggle up with your half. He'll feel like he makes you feel safe, which can do wonders for his ego! You can expect to cuddle up extra close when you go to bed that night.
Head to a haunted house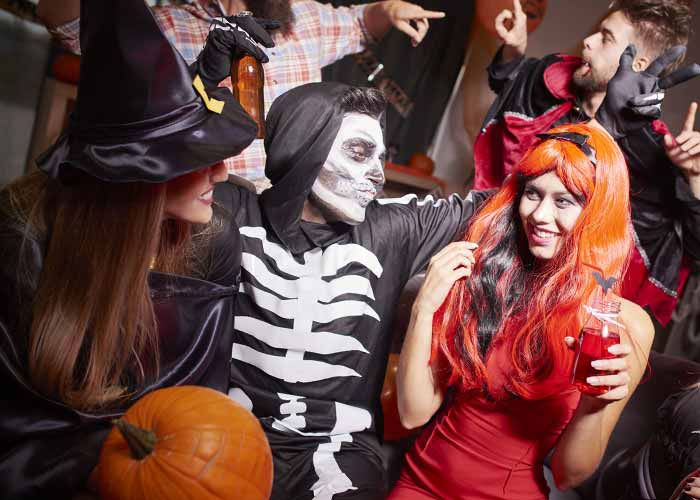 If you and your partner feel like heading out on horror-themed date this Halloween, why not visit a haunted house? Being in such a terrifying setting will bring you closer to each other, and it's sure to provide a shared experience that you'll both remember for many years to come. Cuddle up to your man and get scared together!
Have a pumpkin carving competition
Decorating pumpkins is a great way to celebrate Halloween with your date. Not only is it a lot of fun, but you won't even need to leave the house to do it! Challenge them to a pumpkin carving competition and see who can come up with the most creative design. You can post photos of your pumpkins to Facebook and ask your friends to decide whose is the best. This is a great low-budget Halloween date idea.
Halloween is such a fun night, whether you're single or in a couple. So, don't be afraid to get in the spirit. Head to Halloween parties with friends and get flirty with cute girls, or head out on a spooky date with your girlfriend. This scary occasion gives you the perfect opportunity to cuddle up to a girl you like and get romantic!
Don't be scared to flirt! Sign up to the dating site to find matches!