Kinky Questions to Ask Your Girlfriend to Spice Things Up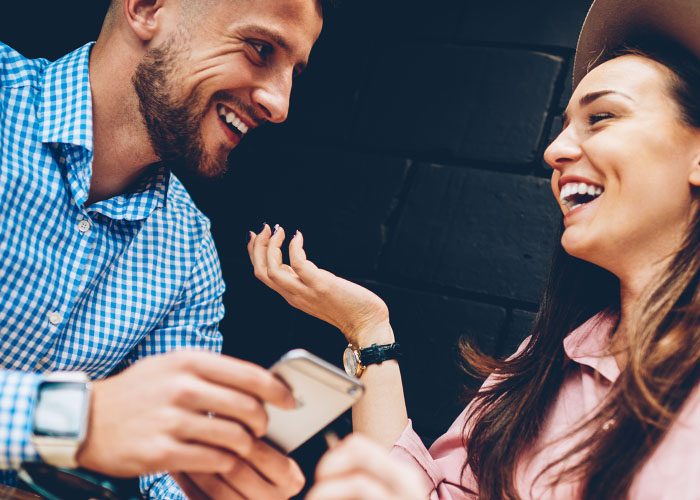 Posing sexy questions to your partner is a great way to bring extra spice to your relationship. Whilst it's not always appropriate to ask raunchy questions in the very early stages of your romance, there's no reason why you can't do so once you've become more comfortable with one another. Asking such questions can also help you find out more about what turns your partner on, and what her biggest turn-offs are. If you've been searching for inspiration when it comes to asking kinky questions to heat things up, read on.
Questions for the early stages of a relationship
It's wise not to get overly sexy when you are in the process of getting to know a partner. Here are flirty questions to ask during the opening stages of your new relationship.
1. How do you feel about kissing in public?
Some people find public displays of affection very exciting, whilst others would rather keep such activities behind closed doors. Asking this question will give you valuable information about where the boundaries are and help you avoid embarrassment and rejection should you wish to publicly display your feelings. Some people feel uncomfortable about the idea of kissing in public, so it's always best to find out what your partner's attitudes to the activity are.
2. Do you prefer to get intimate before or after food?
Food can be a great aphrodisiac, and many people find it hard to focus on intimate activities during hunger. However, some prefer to work up an appetite before dining. It's also possible to combine eating with sexual activity. Sex on a full stomach can be tough for some people. Following a big meal, blood may be sent to a man's stomach rather than the area it needs to go to. Too much food can also make women feel bloated and therefore diminish their sex drive.
3. Where is your favorite place to be kissed?
All women are different, which means their kissing preferences can vary wildly. This is why it's important to find out what turns your partner on and what leaves them cold in terms of kissing. Popular areas for kissing can include the mouth and lips, neck and shoulders, the back, stomach and inner thighs. Your girlfriend may not feel comfortable talking about more intimate regions until the relationship has developed further but everyone is different, and they may even bring the subject up themselves.
4. Do you prefer looks or intelligence?
Far too many men presume women prioritize looks over everything else, but this is less common than you might think. Studies suggest that women tend to go for looks when seeking out casual flings and short-term relationships, but when it comes to long-term connections emphasize the importance of humor and brainpower. A great deal has been written about sapiosexuals – people who are more sexually stimulated by the way people's minds work than their physical appearance.
5. Are you a snuggler?
A study carried out a couple of years ago suggested that cuddling after intimacy was one of the best ways to keep your female partner coming back for more. In the study, 71% of women who cuddled after sex described the experience as "very pleasurable", with only 41% of those that didn't feeling the same way. Women's bodies flood with oxytocin following sex, which makes them crave extra affection. Post-intimacy snuggling can also make her feel less vulnerable and more cared for.
Once you have got the answers you're looking for, you can turn things up a notch with naughty questions to ask. Here are some kinky questions to ask your girlfriend once you're confident your partner won't be offended by your queries.
1. Do you enjoy roleplay?
This is one of the most popular hot questions to ask a girl. There are many advantages attached to role play in the bedroom. Role play can strengthen the connection between partners, boost sexual confidence, diminish inhibitions and breathe new life into relationships.
2. Do you like to get intimate outside of the bedroom?
Many couples have benefitted from sex outside of the usual environment. Taking sex to new places can be incredibly exciting, with popular choices including the sofa, in hotels, in backyards, showers, cars, on beaches and in hotels. Why not ask your girlfriend where the most adventurous place they have got intimate is and see if you can find somewhere even more exciting?
3. Have you tried BDSM?
Attitudes towards bondage and other forms of BDSM have softened since the advent of the Fifty Shades trilogy and other cultural phenomena. Sex of a kinkier nature can boost our mental health, reduce stress and improve relationships substantially. BDSM can alter our state of consciousness, providing us with the kind of "runner's high" experienced by athletes.
4. Would you use ice and wax in bed?
A large number of couples have enhanced their sex lives by bringing extreme temperatures in the bedroom via ice and wax. The combination of extreme hot and cold temperatures can drive your partner wild, and many people have spoken of the thrills provided by mints during intimacy. If you have any safety concerns, read up on how to use things like candles safely before you proceed.
5. What are your secret fantasies?
One popular method of spicing things up in the bedroom is to ask about sexual fantasies. Sexual adventures can bring couples much closer together and provide them with inspiration for further erotic exploits. Studies suggest that couples who are open and honest about their sexual fantasies tend to be happier and enjoy better relationships.
If you have been looking for questions to ask your girlfriend to turn her on, the above should be more than enough to get you started. Asking kinky questions can be daunting, but it can also strengthen your connection. Why not experiment with a few of the other ideas above if you need intimate questions to ask your girlfriend.
Also, you can join Flirt.com for spicy conversations and flirty chats!