The Millennials Guide to Sending Nudes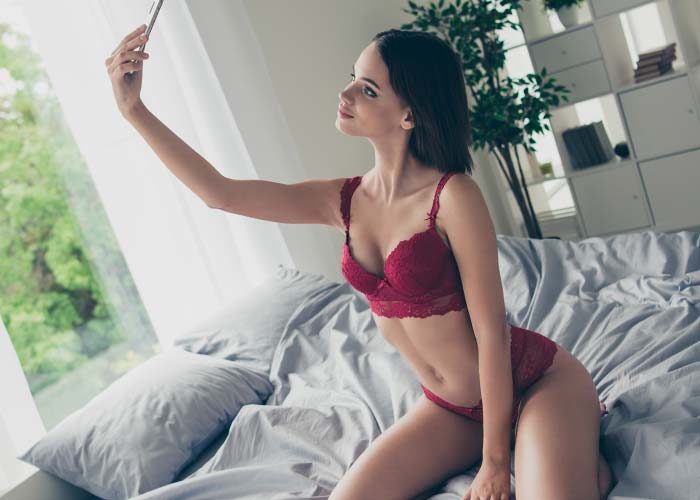 Nude Sexting Is More Common Than You Think
The dating world has changed entirely within the last 50 years; the way we seek and find love, even the nature of romance, today would be entirely unrecognizable to our grandparents and great-grandparents. In the 40's and 50's the concept of 'sexting' and sharing nude pictures was not only alien (because the mediums we use today did not exist), but had it been thought of it would have been considered scandalous.
Yet, a survey completed by Cosmopolitan has found that 90% of millennial women have in the past, and would again, take and send nude pictures of themselves. They say it's fun, empowering, and that it forms a part of their foreplay…
Of course, there are dangers.
Stay Safe While Sending Naked Pictures
We're all about empowerment and self-expression, and so we won't bother telling you about the many dangers that are associated with sexting and sending nudes. You already know, after all; you're a smart person. Instead, we're here to tell you how you can protect yourself while still having your fun!
Of course, there are two camps, so to speak, from which you can undertake this; in a relationship, and while single. The safety precautions you should take, however, differ only slightly!
Sexting While Single: How to Send Nude Pics Safely
So, you're dating again, and you want to keep things casual… that doesn't mean you don't want to have fun, and for singles between the age of 19 and 27 sending nudes is a big part of the equation. So, how can you stay safe while sexting?
1) Set Your Boundaries (And Stick to Them): sending nudes is a nerve-wracking experience for many people, even if they want to do it, so first and foremost make sure that you're good with yourself. Ask yourself what you are comfortable with and never give more than that. Nudes don't have to be porn-esque, full exposure shots. If you feel more comfortable keeping your panties on, do so!
2) Wait A Little While; there are some who will tell you that you should never send to anyone that you're not in a committed relationship with, but the truth is that few people adhere to this rule. Instead, we'll say this; take the time to get to know him a little first.
3) Make Sure It's A Two-Way Road; when you share nudes, you should never be the only one to do so. This creates a power imbalance, and whether or not you like the term it is true! Never send nudes to a guy who is not willing to give in kind; you need collateral in case he turns out to be less than Prince Charming.
4) Remember That You Owe Him Nothing; it doesn't matter what he sends you, how nice he is, what compliments he pays you. If you don't want to send something, don't – you owe him nothing, and any man worth his salt will understand that no means no and act respectfully.
Spicing Up the Long Term; Nudes in a Relationship
You would think that, when you are in a committed relationship, that you can rest easy when it comes to sending nudes. Well… no, not really; the rise of revenge porn has been as sudden as it is shocking and frightening. This is why you still need to exercise some caution (for the record, this advice applies to ALL sexting and nudes).
1) Agree On Some Rules; do you want your other half to delete all pictures within 24 hours? Or perhaps you want a 1:1 swap rule… whatever makes you feel more comfortable, talk to your partner about it and agree on riles that work for both of you.
2) Keep Your Face Free and Clear; no matter how much you trust the recipient, you should still keep your face out of it when you send nude pics. This has as much to do with the likelihood of a cloud hacking or leak as it does with the trust-worthiness of your beau.
3) Take All Nudes on Your Own Device; sadly, most revenge porn sites (in fact most porn sites) care more about copyright than consent, so make sure all pics come from your device. That way should the worst happen, you can get them removed on copyright grounds.
4) Consider Your Local Revenge Porn Laws; law are not consistent in all areas, in fact in some they're not really in place, so see where you stand should someone spread your photos around without your consent before deciding what you want to do.
5) Double Check the 'To' Box; for the love of God, please check the recipient box. Check it twice, no three times. It only takes a few moments, but it's all-important. After all, you can't unsend a nude to your friend, boss, or, god forbid, your father. Think before you click!
6) Delete Them Or Store Them Safely; using apps like Snapchat and Instagram offers some protection as the photos disappear quickly, but if you do take your photos in a way that lets you store them you should consider deleting them. If you don't delete them, you should store them in a password protected or encrypted file rather than on a cloud. This will make them less vulnerable to hackers and people accidentally stumbling across them on your phone or laptop.
More than any of this, however, you should be keeping an eye on how your online activities make you feel; if your nudes are making you anxious, jumpy, and stressed then there's really no point in sending them. The point of any kind of sexuality is to be fulfilling and fun. If your activities are losing you sleep or making you feel worse about yourself it's time to make a change and find something (or someone) that makes you happy.
If you want to date safely, join Flirt.com and enjoy your romantic adventures!